ZEISS and Fellowes Brands Launch Mobile Phone Accessory Photography Lenses
Fellowes Brands, manufacturers of premium mobile photography accessories and ZEISS, international optics enterprise, present three new high-performance accessory lenses for mobile phones at the 2016 Consumer Electronics Show in Las Vegas
OBERKOCHEN/Germany, 06/01/2016.

ZEISS, one of the world's leading companies in the fields of optics and optoelectronics, and the Fellowes' ExoLens™ brand, an American innovator in mobile photography accessories, announce their collaboration in the design and development of accessory lenses for mobile phones. The companies will present the first jointly developed accessory lenses at the Fellowes booth (no. 31016) during the Consumer Electronics Show in Las Vegas from 6-9 January 2016.
The first three lenses – wide-angle, telephoto and macro – are scheduled to be launched in late Q2 2016. The wide-angle and telephoto lenses offer excellent image performance with outstanding edge-to-edge contrast. The macro lens features a zoom function – unique for accessory lenses of this type – for flexible image composition. The new lenses can be used on the Apple ® iPhone ® 1) with customized mounting brackets.




Partnership between ZEISS and ExoLens™
The collaboration between ZEISS and ExoLens™ represents an important step in the development of accessory lenses for mobile phones. ZEISS has been powering optical innovation in photography since 1890. With current products such as the professional camera lenses of the ZEISS Otus SLR lens family or the ZEISS Batis autofocus lenses featuring an innovative OLED display for mirrorless full-frame system cameras, the optics company continues to evolve and set new milestones in photography. ExoLens™ is a pioneer in the new and expanding space of mobile photography. The joint goal of ZEISS and ExoLens™ is to bring never before seen quality and versatility to this rapidly growing market.
"We are thrilled to announce our new relationship with ZEISS, who has been setting standards in optics for almost 170 years," says John E. Fellowes, Chief Executive Officer of Fellowes. "Following the launch of our new ExoLens™ mobile phone photography line last year, our partnership with ZEISS will enable unique and innovative consumer lens solutions. ExoLens™ with optics by ZEISS will redefine quality in the mobile photography space, providing professional-grade results for end users."
"The impact of an image is decisively influenced by the lens and its technical properties," says Dr. Winfried Scherle, Executive Vice President of Carl Zeiss AG and Head of the ZEISS Consumer Optics business group. "The collaboration with ExoLens™ gives us the opportunity to tap into new target groups and provide ambitious mobile phone photographers with high-quality tools to support their creativity."
ExoLens™ with optics by ZEISS
The new lenses are characterized by their leading-edge design featuring smooth surfaces made of black anodized aluminum with white labeling. This is a systematic continuation of the distinctive, innovative product design that typifies current families of ZEISS camera lenses. The modern design offers excellent optic properties and the lenses meet even the highest aesthetic standards," Scherle says. "The lenses of ExoLens™ with optics by ZEISS are the best currently available on the market," he adds. "We have achieved the best possible technical balance between a small size, light weight and high image quality."
All lenses incorporate the proven T*
®
antireflective coating from ZEISS, which minimizes reflections at the glass-to-air surfaces and improves the transmission of light.
The lenses are attached to the device-specific ExoLens™ machined aluminum bracket using a screw thread. The ExoLens™ bracket features a standard tripod mount (1/4"-20) as well as a cold shoe for mounting accessories. At launch, ExoLens™ with optics by ZEISS will be available for Apple
®
iPhone
®
6/6s and Apple
®
iPhone
®
6 Plus/6s Plus, with the goal of adding more devices in the future.
ExoLens™ wide angle and telephoto lenses with optics by ZEISS
The jointly developed lenses turn the integrated mobile phone lens into either a wide-angle or telephoto lens. The optical design used for both lenses bears the name Mutar™. This stands for an afocal system and is therefore different from traditional interchangeable lenses for system cameras. The lens has no focal length, i.e. the focus is set at infinity. This enables photography of objects from infinity to the close-up range, the limits of which are defined only by the technical properties of the mobile phone camera. This makes this optical design suitable for both landscape and detailed photography. Distortion would impair the composition as straight lines which are not imaged through the image center would be reproduced as curved lines. This adverse effect has been offset by the use of aspheric lenses in the optical design. Both lenses therefore offer image excellence and outstanding contrast rendition right to the edges. Chromatic aberrations are also corrected. Bright-dark transitions in the image, and highlights in particular, are largely free from colored artifacts. Protection against dust and water spray makes the wide-angle or telephoto lens perfect for the challenges of outdoor use.
Dramatic perspectives, exceptional angles or portraits in which the main subject is to be clearly isolated from the background are the specialties of the two lenses by ExoLens™ with optics by ZEISS.
ExoLens™ macro lens with optics by ZEISS
The macro lens complements the wide-angle and telephoto lenses and enables currently unparalleled close-up photography with a mobile phone camera. The optical design of the macro lens bears the name Vario-Proxar™. "Vario" stands for the variability of the focal length (zoom), and Proxar™ for proximity. Like the wide-angle and telephoto lenses, the macro lens offers edge-to-edge image excellence and no discernible distortion or chromatic aberration. It is currently also the only accessory lens for mobile phones to offer a continuous zoom function, permitting the full-frame capture of objects with diameters of between three and twelve centimeters. An optionally attachable and semi-transparent diffusor serves as a spacer, allowing light to shine evenly on the object to be photographed and enabling convenient focusing, even with a short object distance and shallow depth of field.
1) iPhone® is a trademark of Apple Inc.
Availability and delivery package
Global deliveries of the first lenses by ExoLens™ to be developed jointly with ZEISS are scheduled for late Q2 2016. The lenses can be purchased with the matching mobile phone mounting brackets in selected specialty stores,
www.amazon.com
as well as at
www.exolens.com
.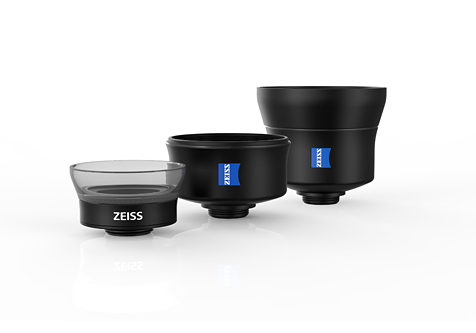 Download
(JPG ·293 KB)
The three lenses by ExoLens™ with optics by ZEISS – macro, wide-angle and tele lens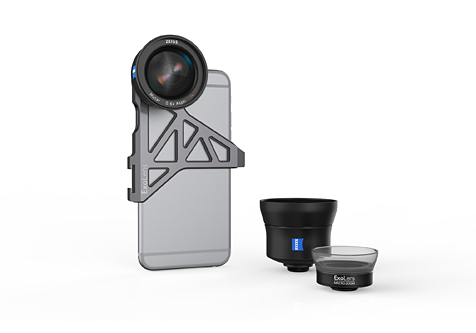 Download
(JPG · 177 KB)
ExoLens™ wide-angle lens with optics by ZEISS on an Apple ® iPhone ® 6s
Technical data for ExoLens™ with optics by ZEISS
---
Press contact:
Tobias Brandstetter
Camera and Cine Lenses
Carl Zeiss AG
Phone: +49 7364 20-4694
Fax: +49 7364 20-4045
tobias .brandstetter @zeiss .com

Nicole Balle
Camera Lenses United States
Phone +1 914 681 7747
nicole .balle @zeiss .com


Maureen Moore
Vice President, Marketing And Communications, Fellowes Brands
Phone +1 630 671 8434
mmo ore @fellowes .com


Julie McCloskey
European Marketing Manager (Communications),
Fellowes, Inc.
Phone +33 9 61 24 14 26
JMcCl oskey @fellowes .com


Andrea Cantong
Marketing Manager DACH/BLX
Fellowes GmbH
Phone +49 511 54 54 89-0
acan tong @fellowes .com
---
About ZEISS
ZEISS is an internationally leading technology enterprise operating in the optics and optoelectronics industries. The ZEISS Group develops and distributes semiconductor manufacturing equipment, measuring technology, microscopes, medical technology, eyeglass lenses, camera and cine lenses, binoculars and planetarium technology. With its solutions, the company constantly advances the world of optics and helps shape technological progress. ZEISS is divided up into the four segments Semiconductor Manufacturing Technology, Research & Quality Technology, Medical Technology, and Vision Care/Consumer Optics. ZEISS is represented in over 40 countries and operates more than 30 production sites, over 50 sales and service locations and about 25 research and development facilities.
In fiscal year 2014/15 the company generated revenue approximating €4.5 billion with around 25,000 employees. Founded in 1846 in Jena, the company is headquartered in Oberkochen, Germany. Carl Zeiss AG is the strategic management holding company that manages the ZEISS Group. The company is wholly owned by the Carl Zeiss Stiftung (Carl Zeiss Foundation).
Further information at
www.zeiss.com
---
Consumer Optics
The Consumer Optics business group combines the company's business with camera and movie lenses, binoculars, spotting scopes, hunting optics and planetarium technology. It is represented at the Oberkochen, Wetzlar and Jena sites. The business group is allocated to the Vision Care/Consumer Optics segment. In fiscal year 2014/15 the segment generated revenue of €1.007 billion with around 9,100 employees
---
About Fellowes
Fellowes Brands provides home, workplace and mobile technology solutions for a world with an ever-changing need for innovation. Founded in 1917 by Harry Fellowes and headquartered in Itasca, Illinois, Fellowes, Inc. employs more than 1,500 people throughout the world and has operations in sixteen countries. Fellowes products are now readily available in over 100 countries around the globe.
Further information at
www.fellowes.com
---