Structure of the Carl Zeiss Foundation

The Carl Zeiss Stiftung (Carl Zeiss Foundation) is the owner of Carl Zeiss AG and SCHOTT AG.
A number of German and non-German subsidiaries belong to the assets and organizational structure of the Carl Zeiss Group and the Schott Group.
The Carl Zeiss Foundation (only available in German)
2004
Transformation of foundation companies into legally autonomous stock corporations
1991/1995
After German reunification, Carl Zeiss and SCHOTT take over the shares of their parent companies in Jena
1946/1952
Continued operations of the foundation companies in West Germany:
Carl Zeiss (Oberkochen) and SCHOTT (Mainz)
1896
Ernst Abbe publishes the Carl Zeiss Foundation statue as the corporate constitution for the foundation companies
1891/1919
The Carl Zeiss Foundation is the sole owner of ZEISS and SCHOTT
1889
Ernst Abbe establishes the Carl Zeiss Foundation
1884
Otto Schott, Ernst Abbe, Carl and Roderich Zeiss establish the Glastechnisches Laboratorium Schott & Genossen in Jena
1846
Carl Zeiss opens an optical workshop in Jena
Objectives and Responsibilities
(as per Section 1 of the Foundation charter)
The primary objectives of the Carl Zeiss Foundation are the responsible management of the foundation companies Carl Zeiss AG and SCHOTT AG as well as the financial security of the foundation companies. The Carl Zeiss Foundation is the sole shareholder.
The Foundation pursues its objectives and responsibilities...
... at the company through:
Specific business activities at the two companies
Fulfillment of its special social responsibility
Promotion of general interests in the optical and precision engineering industry
The promotion of charitable institutions at the foundation company sites
... outside the company through:
The promotion of research and teaching in the areas in which the Foundation companies and their subsidiaries operate.
The bodies of the Carl Zeiss Foundation are:
Foundation Administration
Allocations of subsidies for research and education
Changes to the Foundation constitution
Appointment of the members of the Foundation Council
Attending to the Foundation's economic interests as the sole shareholder of Carl Zeiss AG and SCHOTT AG
Chairman will be elected by the Chairman of the Supervisory Board ("link" between the Foundation and the foundation companies)
Management Advisory Board
Hearing and consulting role for
selection of Foundation Council members
Allocation of subsidies
Changes to the Foundation constitution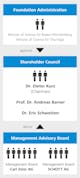 Bodies of Carl Zeiss AG and its members
General Meeting

Management Board

Dr. Dieter Kurz
Prof. Dr. Andreas Barner
Dr. Eric Schweitzer


Dr. Karl Lamprecht
(President & CEO)
Dr. Matthias Metz
Dr. Ludwin Monz
Dr. Christian Müller
Dr. Jochen Peter
Dr. Markus Weber

Shareholders' representatives

Employees' representatives

Dr. Dieter Kurz
(Chairman of the Supervisory Board)
Dr. Klaus Dieterich
Dr.-Ing. Mathias Kammüller
Dr. Joachim Kreuzburg
Dr. Carla Kriwet
Prof. Dr. Jürgen Mlynek
Dr. Lothar Steinebach
Dr. Eberhard Veit


Angelika Franzke
(Vice Chairman of the Supervisory Board)
Hariolf Abele
Prof. Dr. Martin Allespach
Gerhard Bösner
Andreas Kopf
Michael Kramer
Silke Müller
Andrea Sicker

Bodies of SCHOTT AG and their Members