ZEISS History
Join us as we embark on an exciting journey through time
The history of ZEISS mirrors German history and all of its highs and lows. Since it was founded as a business in 1846, it has been transformed into a large, research-oriented enterprise that distributes a host of optical products across the world.
World War I, the global financial crisis and World War II were years of ups and downs. Just like Germany, the company was split in two in the aftermath of World War II. After German reunification, the companies merged once more and suffered a real crisis, and the company as we know it today emerged from these ashes.
People experienced all of it, and created it too. Here you can get a first look at the company's fascinating history.

Carl Zeiss (1816–1888)
A visionary entrepreneur
In 1846, Carl Zeiss opened a workshop for precision mechanics and optical instruments in Jena. He focused his activities more and more on microscope production. Soon he was supplying not only the regional market but also shipping his wares around the world.


The First Employees and Apprentices
The beginning of the future
In 1847, Carl Zeiss trained his first employees: August Löber (1830–1912) later became a trainer himself. Many employees who helped the company grow at the beginning were also trained by him.
Foreman August Löber with mechanics and apprentices in 1864.
From left to right: Carl Müller, Friedrich Pfaffe, Joseph Rudolph, Wilhelm Böber, Heinrich Pape, Fritz Müller and August Löber.
Carl Müller (1849–1909)
He joined the company in 1864 as one of its first apprentices and assistants. He qualified as a foreman in lens mounting and as of 1890 was also trained in the production of camera lenses. He later became the man in charge of final inspections for telescopes. (Photo: ZEISS Archives)
Friedrich Pfaffe (1849–?)
On 6 September 1863, he began working for Carl Zeiss as a grinder. (Photo: ZEISS Archives)
Joseph Rudolph (1841–1914)
Upon joining the company on 23 February 1857, August Löber took him on as a second apprentice lensmaker. He later became a foreman at the grinding shop for microlenses. (Photo: ZEISS Archives)
Wilhelm Böber (1847–? )
He was hired on 15 April 1861 as the third apprentice lensmaker. He began producing front lens elements and glass lenses in around 1883 and did so from his own home as a lensmaker. (Photo: ZEISS Archives)
Heinrich Pape (1849–? )
He joined the company as a turner on 2 January 1864 and worked for Carl Zeiss until 1910. (Photo: ZEISS Archives)
Fritz Müller (1847–1919)
The exceptionally gifted lensmaker joined the company in 1861 and was taught by Carl Zeiss himself. He was soon put in charge of microlens mounting. He worked as senior master at Zeiss until he retired in 1913. (Photo: ZEISS Archives)
Ernst Abbe Joins Forces with Zeiss
(1840-1905)

In 1866, Carl Zeiss recruited physicist Ernst Abbe to help him improve microscopes.
His commitment soon spread to other areas of the company. In 1877, he became a partner in the company and helped shape it.
The first homogeneous oil immersion objective lens was developed on the suggestion of John Ware Stephenson; production began in early 1877.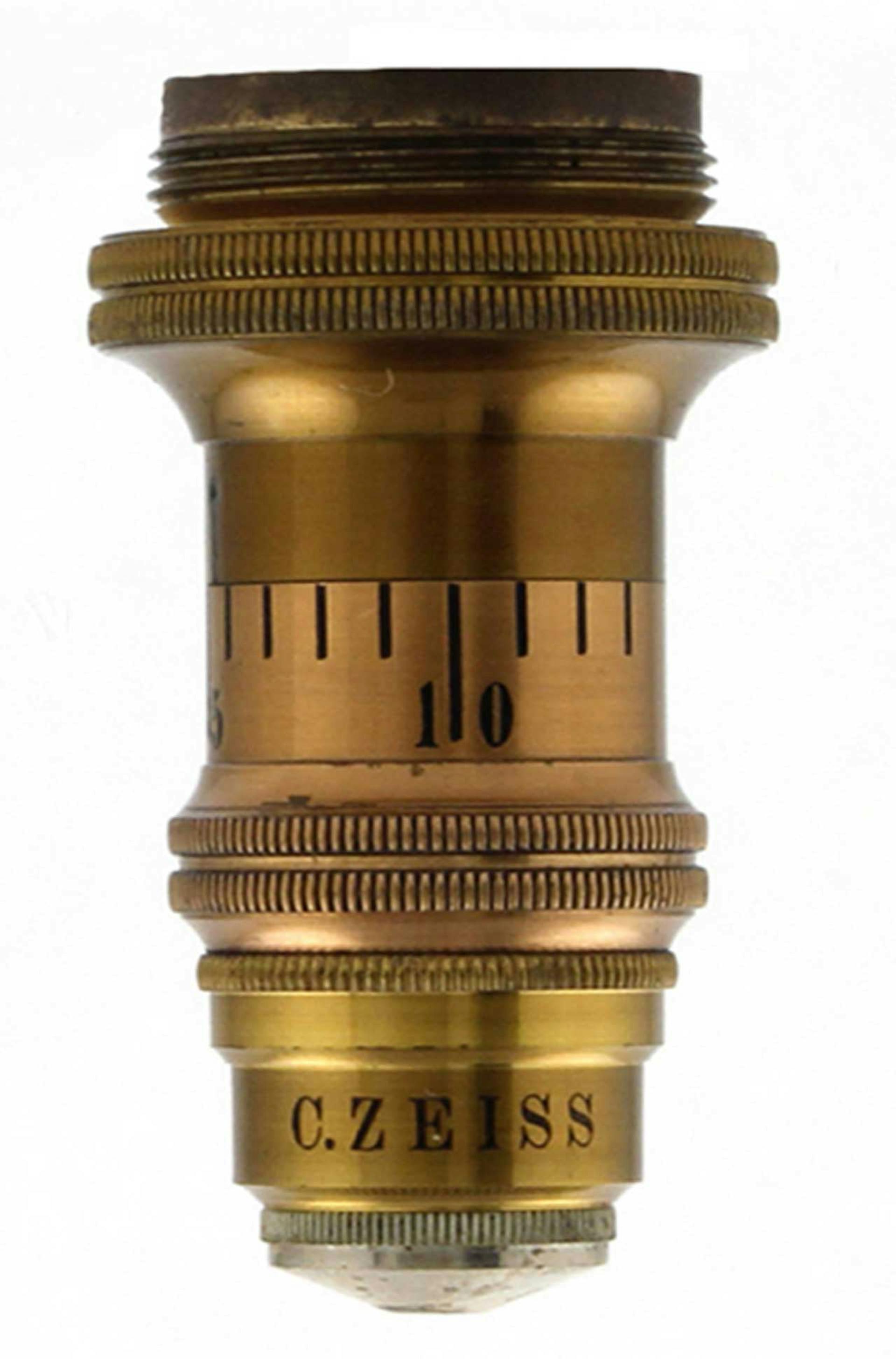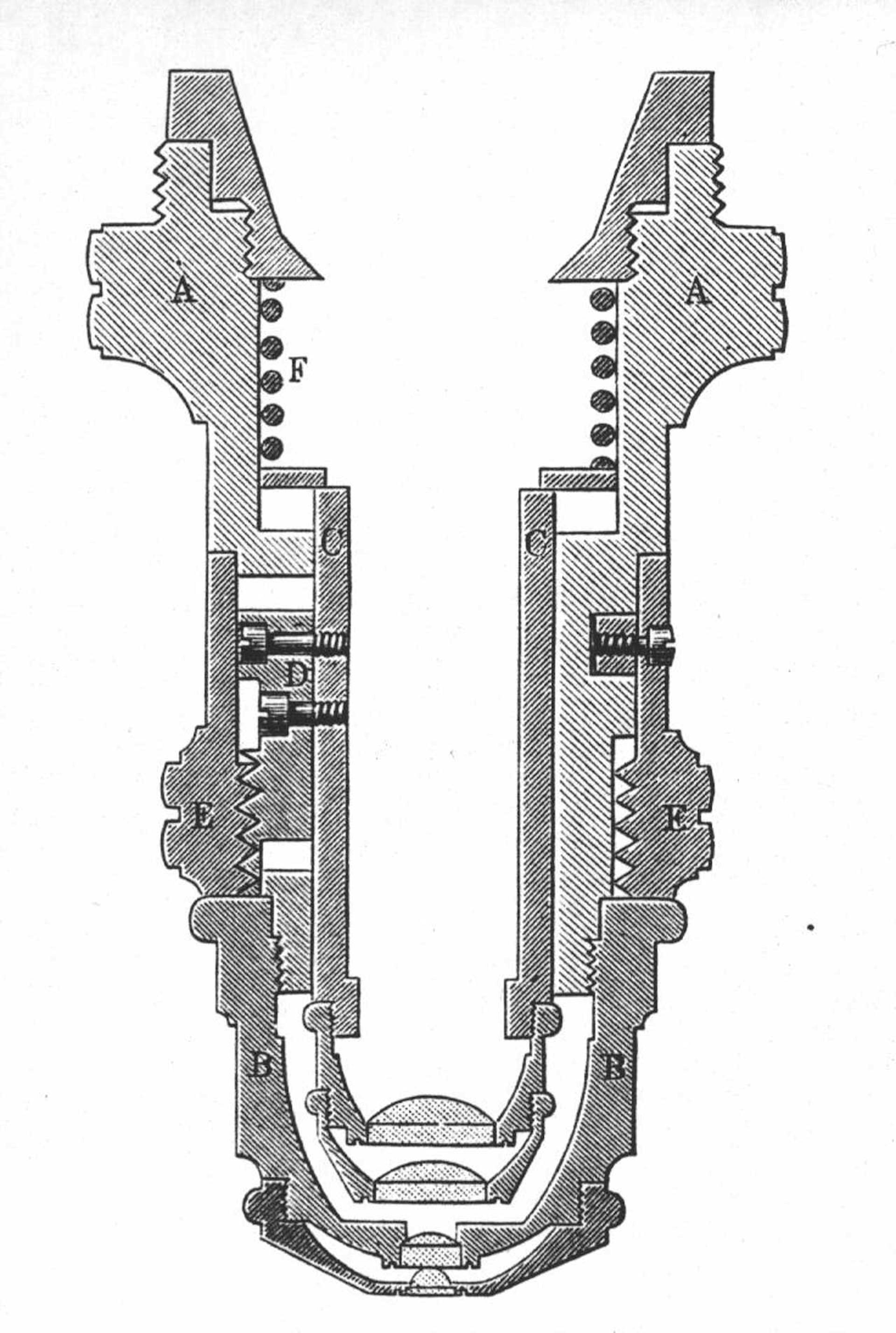 Ernst Abbe's Way of Working Catches on
While science and industry were strictly separated for a long time, they became increasingly interlinked. Zeiss was at the forefront of this change, which has shaped our modern world. Many of Abbe's students (here is a selection) achieved great things for both science and the company.

© ZEISS Archives

© ZEISS Archives

© ZEISS Archives

© ZEISS Archives

© ZEISS Archives

© ZEISS Archives

© ZEISS Archives

© ZEISS Archives

© ZEISS Archives
After the passing of Carl Zeiss in 1889, Ernst Abbe created the Carl Zeiss Foundation, which would become the company's sole owner. Its profits benefitted science, social and cultural projects, and the workforce, too.
Since the 1890s, Abbe's findings and his style of working have also been adopted in other fields of optics. This led to the creation of all-new products, new business areas and rapid growth for the company.
The main Carl Zeiss factory in Jena circa 1908, shortly before further new buildings completely changed the face of the site.
Back in 1893, the first subsidiary was opened in London. Before the outbreak of WWI, sites were established across the world, which then had to be closed when war broke out. There were more ups and downs between then and 1945. Thereafter, the sites outside Germany have been developing in a stable manner and ZEISS is now a globally operating company.
Key Milestones from 1914 onwards
© ZEISS Archives

© Ballhaus Archives

© ZEISS Archives

© ZEISS Archives
© ZEISS Archives
New Factory in Oberkochen
© ZEISS Archives
© ZEISS Archives
© ZEISS Archives
© ZEISS Archives
© ZEISS Archives

© ZEISS Archives
Today, Carl Zeiss AG is a holding company with several subsidiaries. In addition to its sites in Oberkochen and Jena, its main production sites are in Wetzlar and Göttingen in Germany, Dublin and Minneapolis in the US, and Shanghai in China.
Find out more about us.