Who was Carl Zeiss?
A Biography.
Carl Zeiss was born in Weimar on 11 September 1816. He built microscopes in Jena from 1846 onward. Together with Ernst Abbe, he succeeded in placing the construction of microscopes on a scientific foundation. This was the basis of today's global player ZEISS.
Find out more about company founder Carl Zeiss and his life.

Ancestors
The road from Buttstädt to Weimar
Carl Zeiss's ancestors lived in small towns near Weimar. They worked as craftsmen, civil servants and pastors.
Childhood and Youth
1816 to 1834
Famous for Goethe, Schiller, Herder and Wieland, the four most important German poets of their times, and for the "Court of the Muses" set up by the erudite Duchess Anna Amalia – Weimar was deemed as the cradle of national culture in the early 19th century. Recent historical research demonstrates that this is an incomplete picture. In actual fact Weimar was more a city of craftsmen. The city chiefly owed its economic prowess to its craftsmen. The most affluent customers came from the ducal family and the appertaining court household, including the upper echelons of the civil service. Luxury goods were in great demand, and this was reflected by the broad spectrum of skilled crafts.
It was here that Carl Zeiss was born on 11 September, the son of Friederike Zeiss and court wood turner August Zeiss.

© Wikimedia Commons/public domain

© Wikimedia Commons/public domain

© Wikimedia Commons/public domain
© Wikimedia Commons/public domain

© Wikimedia Commons/public domain

© Wikimedia Commons/public domain
Milestones in his youth in Weimar
City map, 1826. Source: Klassik Stiftung Weimar
Apprenticeship and Journeyman Years
1834 to 1845
At Easter 1834, Carl Zeiss left his home city and chose a nearby destination to pursue his further career: Jena, a good 20 kilometers east of Weimar and the seat of the state university.
The university in Jena determined the weals and woes of the populace. The Cives academici, i.e. students, professors and other persons associated with the university, all of whom had their own jurisdiction, constituted quite a formidable economic power despite accounting for less than one fifth of the city's population.
While the production of luxury goods flourished in Weimar, Jena had at its disposal a considerable amount of skilled tradesmen, such as coppersmiths, watchmakers and mechanics, who lived at least in part on work linked to science.
Towards the end of the 18th century, however, a rather gloomy image of the city emerged. After a short-lived economic upsurge in around 1800 associated with such names as Friedrich Schiller, Georg Wilhelm Friedrich Hegel, Friedrich Schelling, Johann Gottlieb Fichte and Friedrich Schlegel, the university experienced some dark times. Thereafter, the number of students only began to rise gradually.
Milestones in his education
Map of the German Confederation in 1830. Source: GEI-Digital
Company Foundation
1846 in Jena

© Carl Schenk, ZEISS Archives
After eleven years of being an apprentice, in 1845 Carl Zeiss returned to Jena on St. Michael's Day (29 September). But before he could begin to consider establishing a business, Zeiss needed a residence permit. The simplest way to obtain one was to enroll at the university.
It was not until 10 May 1846 that Zeiss submitted a request with the grand ducal provincial headquarters to grant him a permit. In spite of his excellent references, the Weimar building authority summoned him to their headquarters in order to assess his suitability to be a mechanic. In his responses, Zeiss made no secret of the fact that he considered the exam questions as nothing more than an impertinence and a waste of time.
The authority was clearly offended at his attitude and initially put his request to one side. On 21 October, Carl Zeiss became impatient and inquired about his request. Only then did the buildings office in charge readdress the issue. Then things went smoothly: On 19 November 1846 the provincial headquarters in Weimar granted Zeiss a permit and informed the Jena city council; on 26 November Zeiss received word from the council and on 8 December he became a citizen of Jena.

Milestones in Jena
City map, 1892. Source: Jena City Museum

© Wikimedia Commons/public domain

© ZEISS Archives
© ZEISS Archives

© ZEISS Archives

© ZEISS Archives
© Wikimedia Commons/public domain
Company in the Early Days
1846 to 1857
Fortunately for Zeiss, this single advertisement proved to be sufficient to attract someone who would go on to play a key role in the company's success: August Löber (1830–1912).
The son of a craftsman, Löber was already 17 and therefore theoretically too old to apply, but the death of his father in January 1847 had left him in a position of genuine hardship. There is no record of whether this influenced Zeiss's decision to employ him, or indeed whether anybody else even applied for the job in the small town of Jena. What we can say for certain is that, over 44 years, Löber was promoted from apprentice to foreman, eventually ending up as the head of production and the company's most valuable instructor and trainer. Moritz von Rohr reports on how Löber received a share of the profits later on in his career and became a wealthy man. This illustrates the extraordinary regard in which the foreman was held in the company, even though much of the workforce considered his managerial style to be short-tempered and authoritarian.
Foreman August Löber with mechanics and apprentices, 1864
L to r: Carl Müller, Friedrich Pfaffe, Joseph Rudolph, Wilhelm Böber, Heinrich Pape, Fritz Müller and August Löber (Photo: ZEISS Archives).
Carl Müller (1849–1909)
He joined the company in 1864 as one of its first apprentices and assistants. He qualified as a foreman in lens mounting and as of 1890 was also trained in the production of camera lenses. He later became the man in charge of final inspections for telescopes. (Photo: ZEISS Archives)
Friedrich Pfaffe (1849–?)
On 6 September 1863, he began working for Carl Zeiss as a grinder. (Photo: ZEISS Archives)
Joseph Rudolph (1841–1914)
Upon joining the company on 23 February 1857, August Löber took him on as a second apprentice lensmaker. He later became a foreman at the grinding shop for microlenses. (Photo: ZEISS Archives)
Wilhelm Böber (1847–? )
He was hired on 15 April 1861 as the third apprentice lensmaker. He began producing front lens elements and glass lenses in around 1883 and did so from his own home as a lensmaker. (Photo: ZEISS Archives)
Heinrich Pape (1849–? )
He joined the company as a turner on 2 January 1864 and worked for Carl Zeiss until 1910. (Photo: ZEISS Archives)
Fritz Müller (1847–1919)
The exceptionally gifted lensmaker joined the company in 1861 and was taught by Carl Zeiss himself. He was soon put in charge of microlens mounting. He worked as senior master at Zeiss until he retired in 1913. (Photo: ZEISS Archives)
Family
Marriage and children

Little is known about what Carl Zeiss was like as a person. Records suggest that his elder brother's wife introduced him to the family of a clergyman named Schatter who lived in the town of Neunhofen in Thuringia. On 29 May 1849 Zeiss married the clergyman's daughter, Bertha Schatter.
Years later Zeiss confided in his friend K.O. Beck that he had made a good choice in his union with Bertha, even though the bride had virtually no wealth of her own. The couple's wedded bliss was short-lived, however: Bertha died aged 22 the day after giving birth to her first son Roderich on 23 February 1850. She was just 22 years old.
Fortunately Zeiss was able to call on family assistance once again. Bereft of his mother, Roderich was initially taken in by Zeiss's parents-in-law in Neunhofen. Therese Schatter looked after her newborn grandson until she died in February 1851, almost exactly one year after her daughter's death. Zeiss then entrusted Roderich's care to his second-eldest sister, Hulda, who also seems to have spent much of her time in Neunhofen.
In 1853 Zeiss remarried, this time to Ottilie Trinkler (1819–1897), the daughter of a clergyman from the town of Triptis in eastern Thuringia, who was distantly related to Zeiss's first wife. Carl Zeiss himself subsequently referred to both his wives affectionately as "spiritually very much country folk." His marriage to Ottilie produced three children: Karl Otto (1854–1925), Hedwig (1856–1935) and Sidonie (1861–1920).
Manual: documentation of income and expenses
In his 'Manual' Carl Zeiss kept detailed records of his income and expenditure between the years 1848 and 1863. It is a record of both the business performance of a small workshop and Zeiss's private expenditures. This makes it an excellent source of social history.
Citizen and Entrepreneur
1857 to 1866
In July 1858 Carl Zeiss was appointed deputy master of weights and measures by the Grand Ducal Office of Weights and Measures in Weimar. As such, he was tasked with overseeing weights and measures in and around the city of Jena. In September 1860, he was named university mechanic.

Further proof of his growing reputation came in 1863 when he was named grand ducal court mechanic. From 1863 to 1867, he was a member of the Jena local council. At the same time, he became a volunteer in charge of donations and funds for local welfare. 
© Carl Bräunlich, ZEISS Archives
1866 was the most successful year for Carl Zeiss since he established his company. 192 microscopes were produced – 81 more than in the previous year. In other words, Carl Zeiss was already a successful businessman and a highly respected citizen when he approached another key turning point in his life.

Ernst Abbe Joins Forces with Zeiss
1866 to 1878
Carl Zeiss made many attempts to put microscope lenses on a scientific basis. The experiments conducted by Friedrich Wilhelm Barfuß; did not produce any workable results.
In 1866 he joined forces with Ernst Abbe.
Abbe initially focused the development of different measuring instruments to more precisely determine the optical characteristics of lenses – a key requirement for rational production.
Further steps were taken to separate mechanical and optical production. At the same time, Abbe constructed new illumination apparatus. 
© Carl Bräunlich, ZEISS Archives

He made his first forays into lens design in 1869 – but this task proved to be a difficult one. A lengthy process of calculations and experiments was necessary to help the Zeiss workshop make up for their lack of experience vis-à-vis their long-established competitors and ultimately outperform them.
On 12 September 1871, Abbe presented his design plan for a powerful water immersion objective lens. From 1872 onwards, all microscope lenses were produced in line with Abbe's designs.

Immersion Objective Lenses
A major breakthrough
The first homogeneous oil immersion objective lens was developed on the suggestion of John Ware Stephenson; production began in early 1877. How this worked? An immersion liquid such as cedar oil, which has a distinctly higher refractive index than air, was placed between the specimen and the lens. This considerably improved the microscope's resolution, and offered many other benefits, such as fewer reflections.
On 8 January 1879, Abbe was able to tell his friend Anton Dohrn about the success of the new product:
"Business at Zeiss has been very good recently. For 3 months now we have been working tirelessly to fulfill the orders we have received. In particular, the new lenses (oil immersion) – and might I say it is a disgrace that you have yet to receive one of them because they are selling like hot cakes – have truly helped elevate the reputation of the Optical Works both in Germany and abroad.

It would seem that over the past 6 months all institutes in Berlin with which we previously had no contact have placed orders for large microscopes."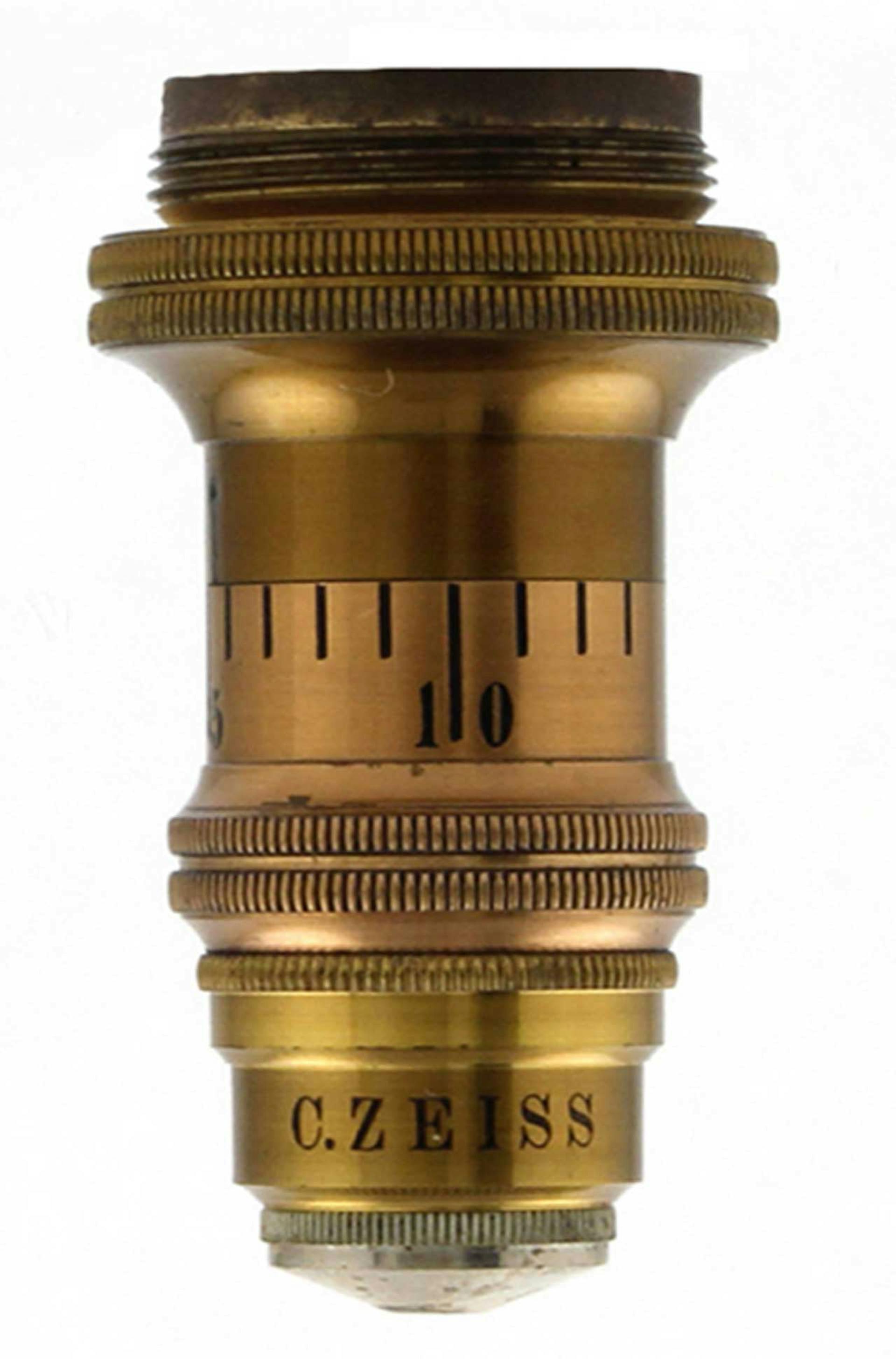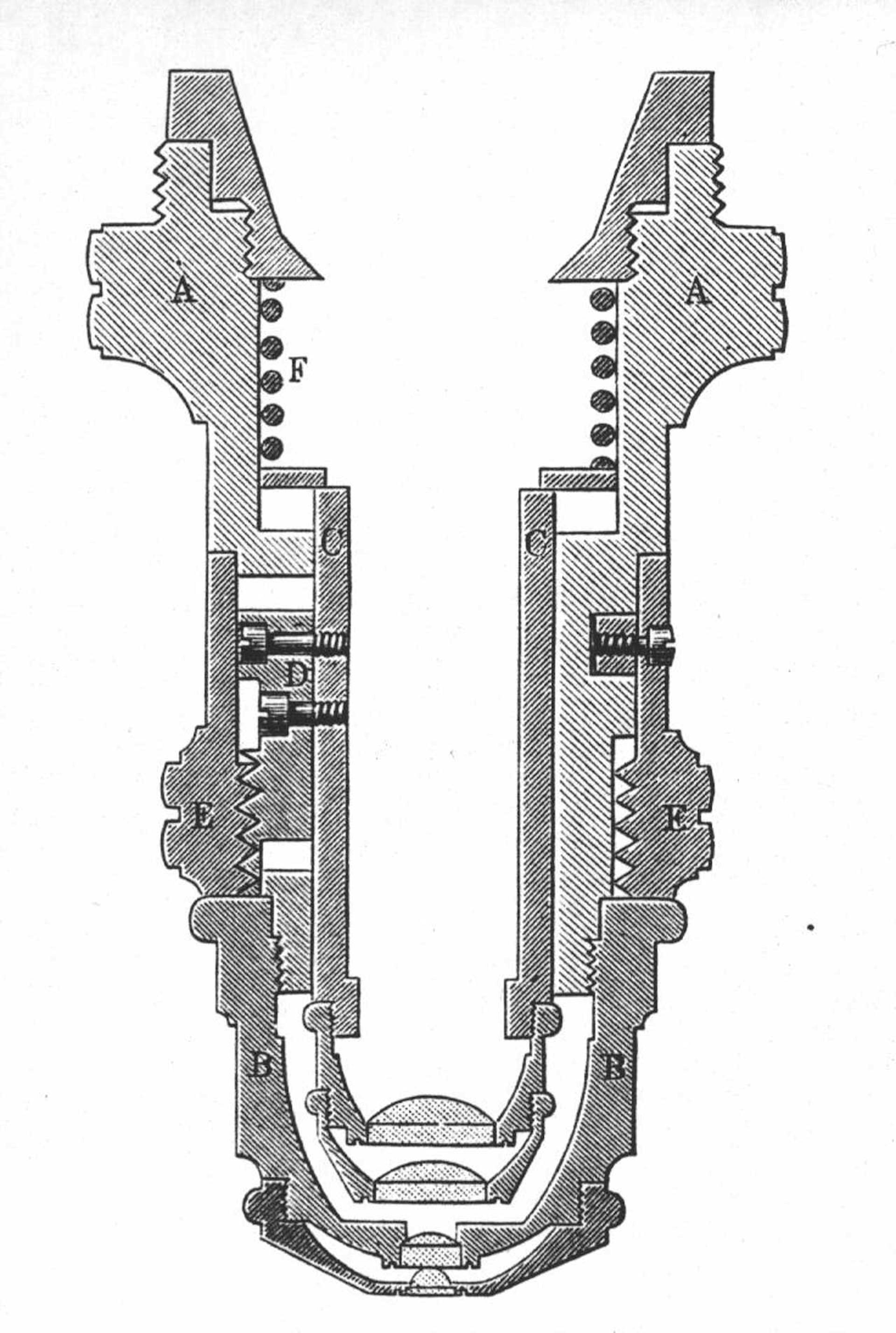 Microscopes for Science
The 20 major delivery destinations from 1847 to 1889



The diagram shows the key locations where these microscopes were sold during the two periods of 1847 to 1869 and 1870 to 1889. The majority of orders in the first 20 years came from ducal towns in and around Jena and some German university towns and centers of commerce. Occasional sales were also made to areas which at that time formed part of Russia, in many cases facilitated by graduates of Jena University. The second period is dominated by major bastions of science and key centers of trade and commerce in western Europe. New York also appears, and an increasing role was played by wholesalers in places such as Cambridge and Delft.
1847 –1869 1,308 microscopes
1870 –1889 13,228 microscopes
Source: ZEISS Archives BACZ 7710-7713.
(Photo: Map of Europe, 1890, source: GEI-Digital: http://gei-digital.gei.de/viewer/resolver?urn=urn:nbn:de:0220-gd-9923482)

© Wikimedia Commons/public domain
© Wikimedia Commons/public domain

© Wikimedia Commons/public domain

© Heinrich Schenk

© Humboldt University, Berlin, Archives
© Humboldt University, Berlin, Archives
Otto Schott Joins the Company
1879 to 1884
On 27 May 1879, Ernst Abbe received a letter from young chemist Otto Schott (1851–1935), who spoke of a new kind of glass he had created. Until then, ordinary glass had been used to produce lenses. Now, the opportunity presented itself to develop special, optical glass. He sent these samples to Jena, where their suitability for optical purposes was assessed.
In January 1882 a glass technology laboratory was set up in Jena. In late 1882, Schott relocated to Jena. The funds to purchase a plot of land for Schott in Jena were mustered up by Carl Zeiss, and the laboratory experiments had been financed by Abbe since 1882. It didn't take long for Schott to achieve some remarkable progress, however. 

© Carl Bräunlich, ZEISS Archives
He succeeded in controlling the properties of the optical glass, which was initially produced in small quantities, and also in manufacturing samples with no impurities or internal stresses. Zeiss made the first microscope lens using Schott glass in the fall of 1883. The results were extraordinary, offering a tantalizing glimpse of the remarkable improvements in optical instruments that could conceivably be achieved with the new material.
On 23 July 1885 the company "Jenaer Glaswerk Schott & Genossen" was established. Its partners were Carl and Roderich Zeiss, Ernst Abbe and Otto Schott. The new company's main line of business would later be heat-resistant lenses.


© SCHOTT Archives

© SCHOTT Archives

© SCHOTT Archives

© SCHOTT Archives

© SCHOTT Archives

© SCHOTT Archives

© SCHOTT Archives

© SCHOTT Archives

© SCHOTT Archives

© ZEISS Archives
Outlook
Science-Based optics
The new apochromatic lenses led to an enormous surge in demand. While skilled opticians were able to keep up with optics produced through trial and error, competitors were forced to produce science-based optics if they wanted to hold their own on the market. Orders for Zeiss microscopes were coming in from academic and research institutions all around the globe, and inroads were steadily being made into the realms of physicians, hygiene specialists and material testers.
The company was also sporadically starting to produce other optical products such as refractometers for measuring the concentration of solutions. It wasn't until the 1890s that the new technological methods were applied to a greater variety of products including binoculars, camera lenses, astronomical devices, spectrometers and geodetic instruments, opening up new areas of business which would further accelerate the company's growth.

Latter Years
1884 to 1888
Therese Zeiss, who married Roderich in 1884, recalls her father-in-law's final months:
"Carl Zeiss's health deteriorated rapidly in the fall of 1888. […] Withdrawn into himself, he now seemed thin and shrunken, with only his sparkling eyes to remind us of the upright, vivacious figure he once was with his full white beard and benevolent face. […] He also continued to show an interest in our garden, in the flowers and fruits. A quiet mood had overtaken him, he seemed humble and unassuming, excessively so. His voice became softer and gentler, though his gaze was still as bright, alert and penetrating as ever. […] 

 

[…] Previously, when he threw a garden party with old friends, something he did frequently and gladly, then there was draft beer and grilled sausages aplenty. He would sometimes be very merry, though he was never loud. When all the children gathered around him, Carl Zeiss would enjoy telling jokes. These occasions always involved a selection of fine food and excellent wines in which his sons and sons-in-law were free to indulge."

© ZEISS Archives
On 3 December 1888, Carl Zeiss closed his eyes for the final time. He was buried in the Johannisfriedhof cemetery next to the Garnisonkirche. Eight of his most loyal employees acted as pallbearers. His coffin was embellished with a brass cross inlaid with objective lenses which had been produced at the Optical Works.
© Photo: ZEISS Archives

© Photo: ZEISS Archives

© Photo: ZEISS Archives
Thoughts about her Great-Great-Grandfather
Carl Zeiss's great-great-granddaughter studied microbiology in Kiel and Miami, and obtained her doctorate Göttingen (Dr. rer. nat.)

She worked in Research, Development and Quality Management at different pharmaceuticals. Today, she advises companies on the production of pharmaceutical and medical technology products and devices.