Carl Zeiss Year 2016
Company Celebrates 200th Birthday of Founding Father Carl Zeiss
JENA/Germany, OBERKOCHEN/Germany, 2015-09-10.


Carl Friedrich Zeiss was born in the German city of Weimar on 11 September 1816. The company ZEISS is celebrating the 200th birthday of its founding father by organizing many different activities and events – in addition to the Carl Zeiss Day on 11 September 2016 in downtown Jena, there will also be a touring exhibition and a book.

ZEISS will celebrate its prominent founder together with players from the city of Jena, the ZEISS sites in Germany and abroad, and partners from science, industry and society. On the website www.zeiss.de/carlzeiss200 the company will provide an event calendar in which institutions can enter the events they will hold to mark the 200th birthday of Carl Zeiss.

The mechanic Carl Zeiss opened a small workshop for precision mechanics and optics in Jena in 1846, laying the foundation for today's global technology player ZEISS. "His work shaped the reputation of the city of Jena as an international center for optics and photonics and home to globally operating companies and prestigious research institutes," said Jörg Nitschke, Senior Vice President of Corporate Communications at ZEISS.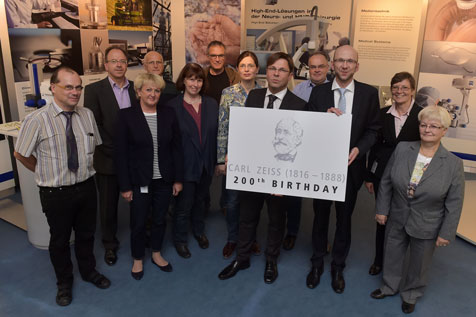 Image download (JPG File · 3.1 MB)
Jörg Nitschke, Head of Corporate Communications at ZEISS (left), Wilfried Röpke, Head of JenaWirtschaft, with partners from the city of Jena presenting the logo created by ZEISS to celebrate the 200th birthday of its founder on 11 September 2016.
Photo: Courtesy of ZEISS/Jürgen Scheere


---
About ZEISS

ZEISS is an internationally leading technology enterprise operating in the optics and optoelectronics industries. ZEISS develops and distributes lithography optics, measuring technology, microscopes, medical technology, eyeglass lenses, camera and cine lenses, binoculars and planetarium technology. With its solutions, the company constantly advances the world of optics and helps shape technological progress. The company is divided up into the six business groups Industrial Metrology, Microscopy, Medical Technology, Vision Care, Consumer Optics and Semiconductor Manufacturing Technology. ZEISS is represented in over 40 countries – with around 30 production sites, over 50 sales and service locations and about 25 research and development facilities.

In fiscal year 2013/14 the company generated revenue approximating 4.3 billion euros with just under 25,000 employees. Founded in 1846 in Jena, the company is headquartered in Oberkochen, Germany.

Carl Zeiss

AG is the strategic management holding company that manages the ZEISS Group. The company is wholly owned by the

Carl Zeiss

Stiftung (

Carl Zeiss

Foundation).

Further information at www.zeiss.de/en


ZEISS in Jena

The Semiconductor Manufacturing Technology, Medical Technology and Microscopy business groups, as well as the Planetariums strategic business unit and the Central Research division of ZEISS are represented in Jena. Jena is also the headquarters of the central service company for the production operations of the ZEISS Group. ZEISS employs more than 2,000 people at its Jena site.
---
---