Progressive glasses are an all-around talent:
finally enjoy good vision again – no matter the distance.
ZEISS progressive lenses offer optimum vision support for the near and far zones. Perfectly fitted to the wearer, these lenses are tailor-made just for you, ensuring greater wearer tolerance, faster adaptation and all-around clear vision.
ZEISS progressive lenses.
individual and one-of-a kind – just like you.
Our wide selection of progressive lens designs enables your optician to produce a pair of progressive glasses optimised for your particular vision needs and featuring unprecedented quality. Cutting-edge computer technology assists in measuring visual performance and fitting the lenses to your frames. The near, intermediate and distance zones are all incorporated into one lens with smooth transitions. These lenses are tailor-made for your facial shape, your lifestyle, your career and your visual habits. Individual and one-of-a kind – just like you.
Outstanding wearer tolerance, adaptation in next to no time. For optimum vision.
A vast array of factors, technologies and wearer data are incorporated in the production of ZEISS progressive lenses, ensuring a faster adaptation period than ever before. No matter if you already have experience wearing progressive glasses or are wearing them for the first time: a pair of progressive glasses tailor-made for you is your best choice for high-quality, natural vision.

Smooth, perfect vision – no matter where you look.
A lens design that is as complex as it is comfortable: ZEISS progressive lenses provide you with clear vision immediately whenever you shift your eyes. And the transition is smooth as can be, finally making blurred images in the transitional zone a thing of the past.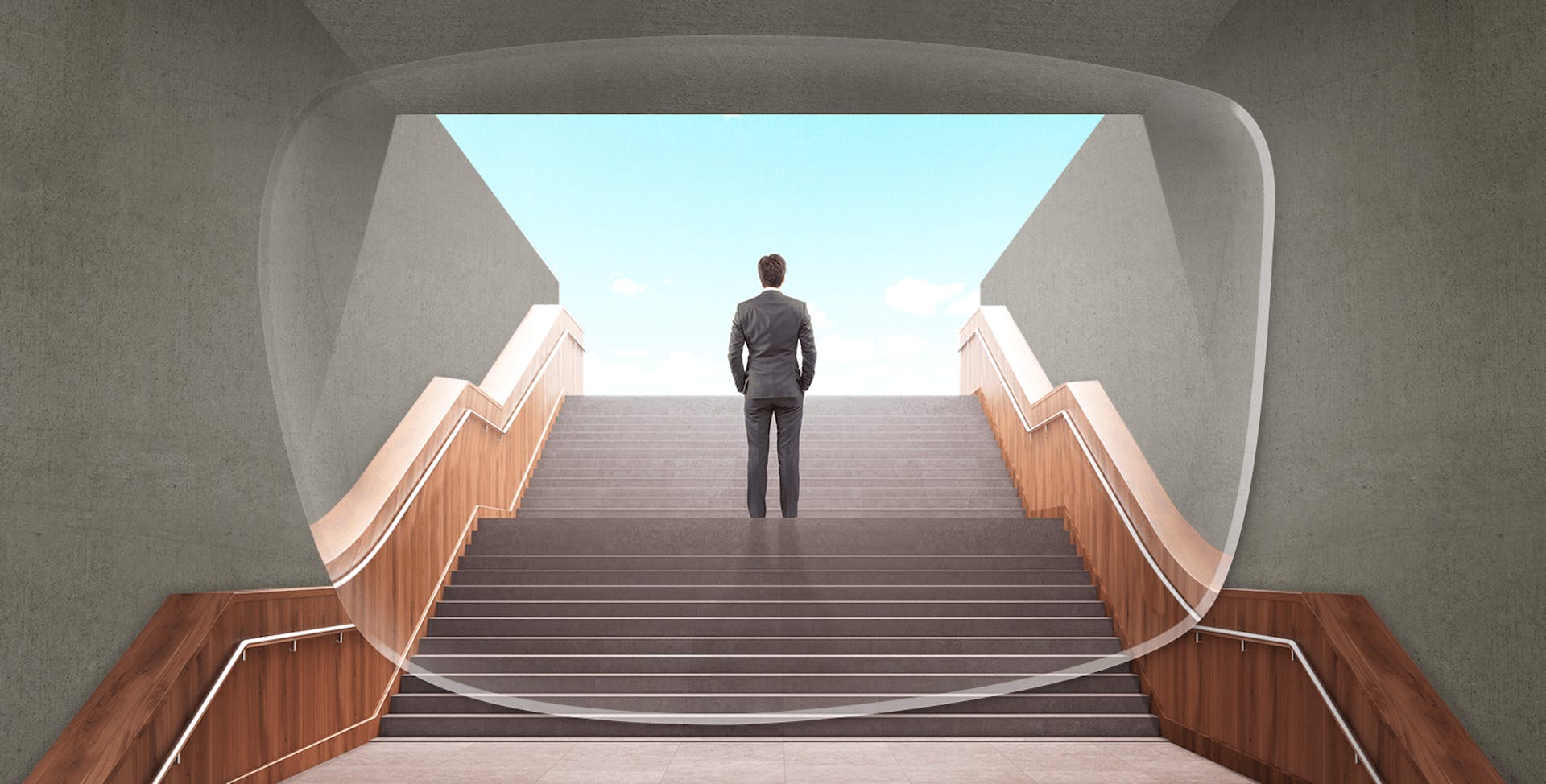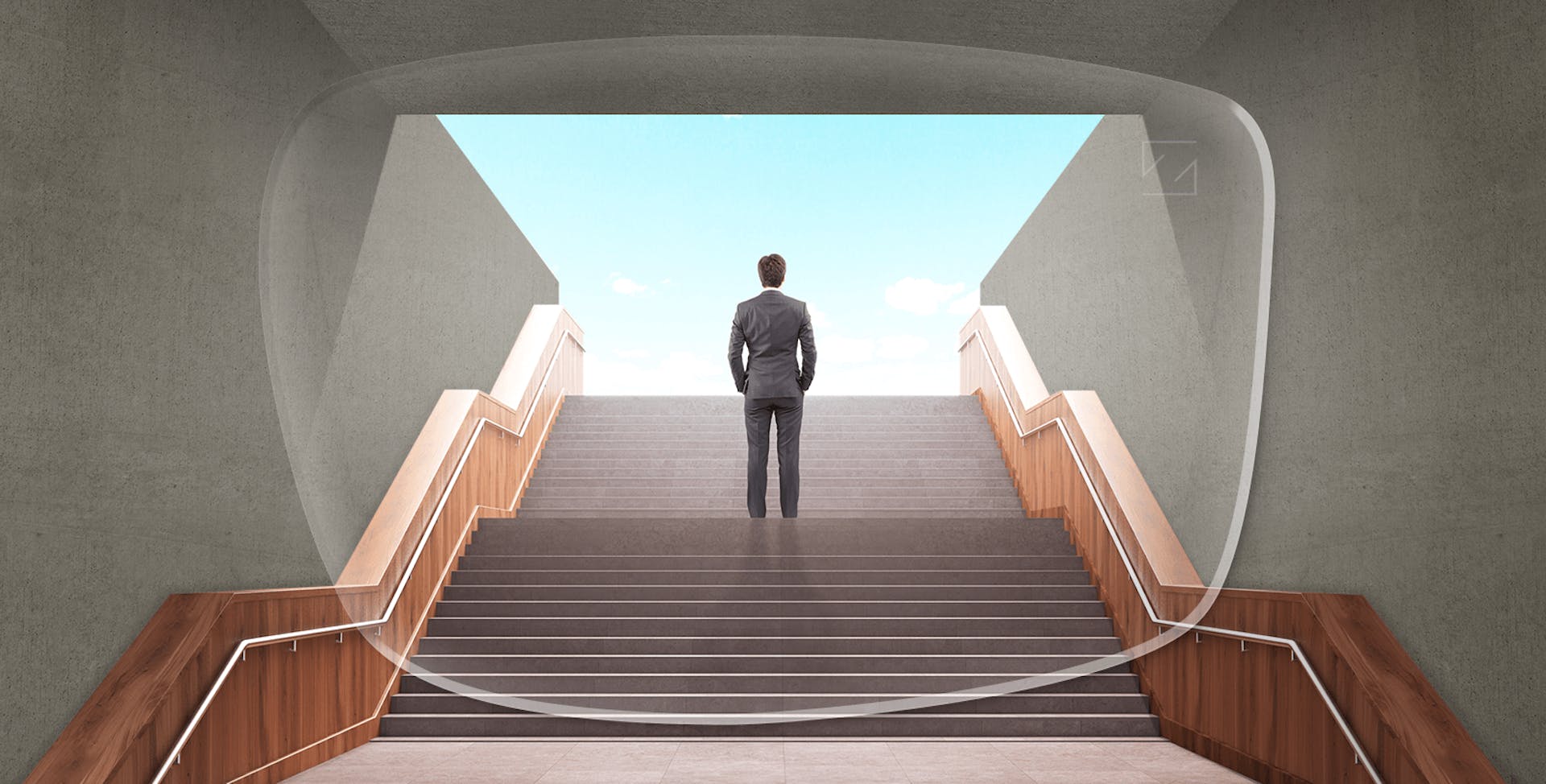 Seeing digital. Progressive lenses for a modern world.
These days we're constantly using our smartphones or tablets, but these digital devices pose a new challenge for our eyes. ZEISS progressive lenses incorporate these changes in our everyday lives and enable fast, comfortable focusing thanks a specially optimised near zone – no matter where you're looking. These lenses are not only perfect for digital devices, but also books and magazines, helping you avoid uncomfortable head and body posture.

Available for every pair of frames. Your style, your choice.
Thinking about getting a new, fashionable pair of frames? Be inspired by the sheer diversity available. Even with unusually shaped frames (e.g. aviator glasses), your ZEISS optician will adjust the new progressive lenses to accommodate your visual habits so that there is no adaptation period.

Aesthetically thin, exceptionally light. Uncompromising design.
No matter if they're made of plastic or glass: cutting-edge production methods enable the manufacture of incredibly thin, light lenses, even with a high prescription and special visual impairments. You'll barely notice you're wearing these lightweight champions at all.
Scratches and dirt don't stand a chance. More robust than ever.
High-performance lens coatings make your glasses extremely durable against scratches or adhesive dirt. The benefit: your lenses remain dirt-free for longer, making them significantly easier to clean. See better, look better – thanks in part to the latest anti-reflective coating.
Additional visual comfort in artificial light.
Counteract eye fatigue and visual stress.
No matter if it's a smartphone, an LED lamp, a monitor, TV, tablet or an e-reader: modern light sources emit more blue light than we've ever experienced before. Many people find this light unpleasant and stressful because it adversely impacts our biorhythms and may even be dangerous for our eyes. A blue light filter in the spectacle lens can provide you with more comfortable vision.

Progressive lenses and sun protection – all in one lens. At record-breaking speed.
A pair of glasses for every situation: these self-tinting lenses also work as sunglasses. They darken in seconds and clear up in just a few minutes. And of course they feature 100% UV protection.

Lenses with sun protection, featuring a progressive lens design.
The summer dream team.
Every pair of glasses can be transformed into a pair of sunglasses of your choice, featuring perfect UV protection and providing you with optimum vision in one lens. And these lenses come with everything you'd expect: improved contrast perception, less glare and an anti-reflective coating. It's nice not to compromise.

5 Tips for Progressive Lenses

1. If you've started having trouble with your vision, get in touch with your optician immediately. The earlier you begin wearing progressive lenses, the easier this transition will be.


2. The be-all-and-end-all at the optician: personal consultation on progressive lenses and frames, thorough testing and then perfectly fitted lenses.

3. Let your eyes adjust to your new progressive glasses immediately. This means: wear them on an ongoing basis – and be patient!
Your eyes and vision will adjust in next to no time. Should you still have difficulties after 14 days, however, go to your optician. If you don't enjoy clear vision when looking straight ahead or if edges seem blurred in the distance, then your glasses may be centred too high. But if you have to look far down to see things close up, then your glasses may be centred too low in front of your eyes. In either case, you optician can help – often just a short visit solves the problem.


4. People wearing progressive lenses for the first time usually find their distance vision works best with their new glasses.
When you're reading, just look down with your eyes – don't tilt your whole head. When you're walking, look straight ahead and not at the ground. When walking upstairs, tilt your head in such a way that you're looking through the upper section of your lenses, i.e. through the area of the lens for distance vision – that way you'll see the stairs clearly.

5. Even if your progressive glasses are just slightly off-centre, you should have them adjusted immediately at your optician. The alignment of the lenses with your eyes is only correct if the glasses sit just as they were fitted by your optician.
My Vision Profile
Determine your personal visual habits now and find your individualised lens solution.
Find a ZEISS Optician Near You