© Laura Saffioti | ZEISS Touit 1.8/32
© Muga Miyahara | ZEISS Touit 1.8/32
© Laura Saffioti | ZEISS Touit 1.8/32
© Douglas Kurn | ZEISS Touit 1.8/32
© Tobias Brandstetter | ZEISS Touit 1.8/32
Magician of the moment.

center >
A compact standard focal length with autofocus, especially designed and constructed for compact APS-C cameras of the Sony Alpha series with E-Mount and Fujifilm X series. A lens that makes it so easy to spontaneously capture your special moments and preserve them in perfect pictures.
The best of two worlds. Just like a 50 mm lens in 35 mm photography, the ZEISS Touit® 1.8/32 offers the same angle of view as the human eye. However, optimised for use with APS-C format sensors, it is simultaneously a lens that is so light and compact that it can be taken along simply anywhere and everywhere you go. Whether you are shooting portraits, landscapes or spontaneous snapshots, you will never cease to be amazed by what a ZEISS Touit 1.8/32 can tease out of your camera. It is quite simply the ideal companion for capturing perspectives and colour- and lighting moods in perfect pictures.






Smooth and reliable autofocus
The design of the autofocus system demands an extremely precise movement of certain lens elements. As the mass of the elements or groups to be moved within the optical system differs, various motor types may be installed. The focusing system of the Touit lenses is designed to guarantee robust and smooth autofocusing without any need for compromises or limitations in their optical design.

Information: To achieve maximum compatibility on APS-C cameras of the Sony Alpha series with E-Mount (AF in video mode) we highly recommend using the latest Sony firmware.

The ZEISS Touit lenses are designed and constructed specifically for use on APS-C cameras of the Sony Alpha series with E-Mount and Fujifilm X series. The lenses are therefore fully compatible and support all camera functions, including autofocus.

Virtually distortion-free optics
Dramatic perspectives and a view from extraordinary image angles – ZEISS lenses open up new composition possibilities. Distortion would disrupt the composition because straight lines, whose image does not go through the image center, would be reproduced with a curved shape. This annoying effect is accordingly and largely compensated through elaborate optical designs at all focal lengths.

ZEISS T* anti-reflective coating
The optical elements of ZEISS lenses feature T*® anti-reflective coating on all surfaces and an optical design that guarantees images of superior brilliance at all times, even in unfavourable lighting conditions. We apply the anti-reflective coating to the lens surfaces by the vapour deposition of extremely thin, transparent layers on the glass. In this process, special substances are vaporized with extremely high energy in a high-vacuum environment and are subsequently deposited on the glass surfaces, one after another, as layers with precisely controlled thicknesses to achieve the desired reduction of reflective properties. The first coating techniques were employed by ZEISS as long ago as in the 1930s.

| | |
| --- | --- |
| Focal length | 32 mm |
| Aperture range | f/1.8 – f/22 |
| Camera mount | Sony E-Mount* | Fujifilm X-Mount* |
| Format compatibility | APS-C |
| Focusing range | 0,30 m (11.81") – ∞ |
| Free working distance | 0,23 m (9.06") – ∞ |
| Angular field** (diag. | horiz. | vert.) | 48° | 40° | 29° |
| Diameter of image field | 28 mm (1.11") |
| Coverage at close range (MOD)** | 170 x 111 mm (6.69 x 4.37") |
| Image ratio at minimum object distance | 1 : 9 |
| Lens elements | groups | 8 | 5 |
| Flange focal distance | E: 18 mm (0.71") | X: 18 mm (0.70") |
| Entrance pupil position (front of image plane) | 47 mm (1.84") |
| | |
| --- | --- |
| Autofocus | + |
| Image Stabilization | – |
| | |
| --- | --- |
| Filter thread | M52 x 0.75 |
| Rotation angle of focusing ring | 270° |
| Diameter max. | E: 75 mm (2.95") | X: 75 mm (2.95") |
| Diameter of focusing ring | E: 65 mm (2.56") | X: 65 mm (2.56") |
| Length (with lens caps) | E: 72 mm (2.83") | X: 76 mm (2.99") |
| Length (without lens caps) | E: 60 mm (2.36") | X: 58 mm (2.28") |
| Weight | E: 200 g (0.44 lbs) | X: 210 g (0.46 lbs) |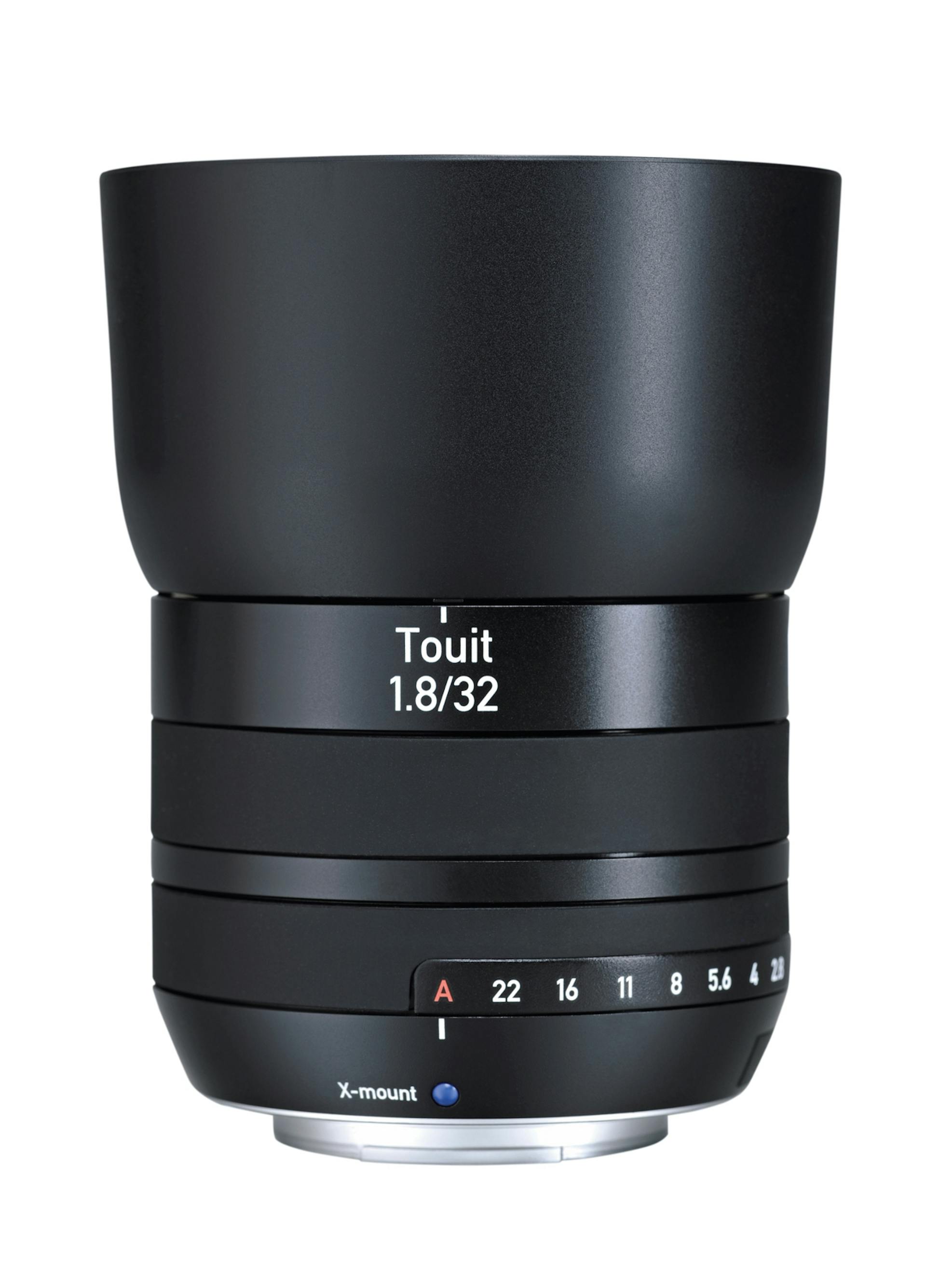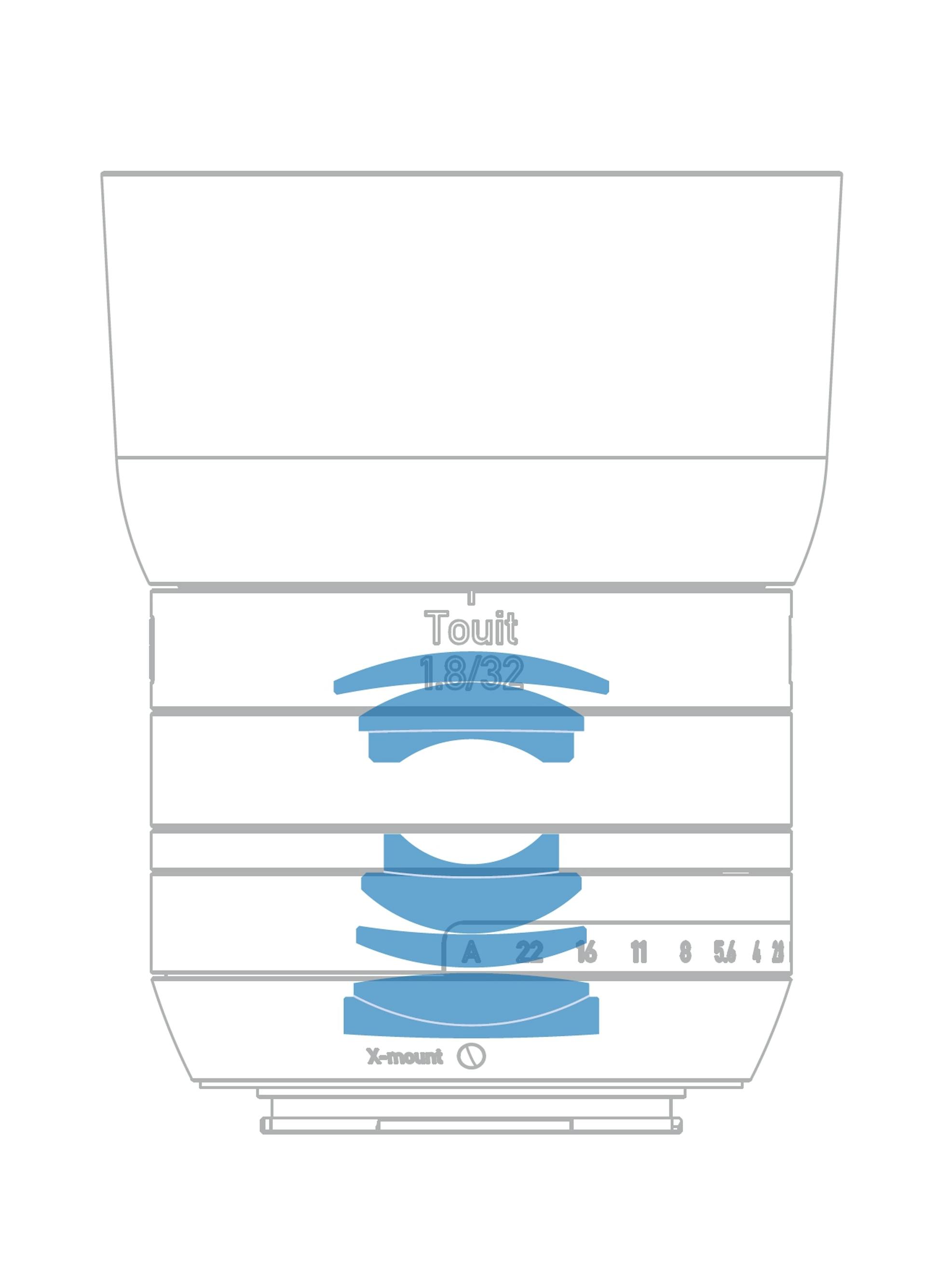 The Planar lens design is the most successful – and most frequently copied – camera lens design of all time. Modifications to the tried-and-tested six-lens basic type ensure that it achieves the high imaging quality required by modern sensors. Lenses with a Planar optical design enable consistent performance across a large range of image scales – the key requirement for universal macro-lenses.


Planar Design
fotocarenyc.blogspot.com
"Let me begin by saying I could have written this entire review in this one sentence: "The Zeiss Touit 12mm and 32mm are..."
fotocarenyc.blogspot.com
diglloyd.com
"It appears that one can get very useful ~15.4mm equivalent field of view on the full frame Sony A7R with the Touit 12mm f/2.8 Distagon......"
diglloyd.com
varietyoflight.com
"What impressed me almost instantly was the build quality of this lens. It's a very solid and all metal construction and..."
varietyoflight.com
Lens Accessories
Round off the fully unique product experience.
When taking pictures, an optimal image is not the only consideration. Capturing that special experience also plays a key role. With their reliable functions, camera lenses from ZEISS ensure that photographers can fully concentrate on the image and composition, and bring their creativity to life. In order to perfect this experience, ZEISS now offers accessories tailored to the requirements of demanding photographers.
Obtain the extended warranty
Product Registration
ZEISS grants a warranty period of two years from the date of purchase for all its photographic lenses. This may be extended to three years after registering with ZEISS Online Registration. Although the ZEISS extended warranty is already available in numerous countries, claims under warranty may only be made in the country in which the product was purchased. 

Dealer Locator
Please type in your address to find a dealer near to your location: