© Richard Schleuning | ZEISS Touit 2.8/12
© Douglas Kurn | ZEISS Touit 2.8/12
© Barry Tse | ZEISS Touit 2.8/12
© Russell Ord | ZEISS Touit 2.8/12
© Barry Tse | ZEISS Touit 2.8/12
ZEISS Touit 2.8/12
As far as the eye can see.

center >
Thanks to the combination of one of the widest fields of view in APS-C format photography with fantastic imaging performance and light weight, this lens makes wide-angle photography even more fascinating.
With an angle of view of 99 degrees, the ZEISS Touit® 2.8/12 wide-angle lens will soon become a firm favourite, particularly for landscapes and architectural photography. Its unique ZEISS T*® multicoating guarantees maximum transmission and outstanding absorption of extraneous light. The result: breathtaking image quality from edge to edge and corner to corner of the entire image field. What's more, all moving parts of the ZEISS Touit 2.8/12, conceived specifically for APS-C cameras of the Sony Alpha series with E-Mount and Fujifilm X Series, are engineered for extreme precision and a long service life. And finally, its strong and rigid metal bayonet mount makes it an absolutely dependable companion for many years to come.





Smooth and reliable autofocus
The design of the autofocus system demands an extremely precise movement of certain lens elements. As the mass of the elements or groups to be moved within the optical system differs, various motor types may be installed. The focusing system of the Touit lenses is designed to guarantee robust and smooth autofocusing without any need for compromises or limitations in their optical design.

Information: To achieve maximum compatibility on APS-C cameras of the Sony Alpha series with E-Mount (AF in video mode) we highly recommend using the latest Sony firmware.

The ZEISS Touit lenses are designed and constructed specifically for use on APS-C cameras of the Sony Alpha series with E-Mount and Fujifilm X series. The lenses are therefore fully compatible and support all camera functions, including autofocus.

Virtually distortion-free optics
Dramatic perspectives and a view from extraordinary image angles – ZEISS lenses open up new composition possibilities. Distortion would disrupt the composition because straight lines, whose image does not go through the image center, would be reproduced with a curved shape. This annoying effect is accordingly and largely compensated through elaborate optical designs at all focal lengths.

ZEISS T* anti-reflective coating
The optical elements of ZEISS lenses feature T*® anti-reflective coating on all surfaces and an optical design that guarantees images of superior brilliance at all times, even in unfavourable lighting conditions. We apply the anti-reflective coating to the lens surfaces by the vapour deposition of extremely thin, transparent layers on the glass. In this process, special substances are vaporized with extremely high energy in a high-vacuum environment and are subsequently deposited on the glass surfaces, one after another, as layers with precisely controlled thicknesses to achieve the desired reduction of reflective properties. The first coating techniques were employed by ZEISS as long ago as in the 1930s.

Today's camera technologies and high-resolution sensors demand continuous improvement of lens performance. Thanks to the use of the latest floating element design principles, optical aberration effects in ZEISS lenses are reduced to a minimum throughout their entire focusing range. This is achieved by variation of the axial distance between individual lens elements or groups. This adjustment of the lens-to-lens distance is coupled to the distance setting to ensure correct compensation at all times. The mechanical construction of these lenses is extremely complex and they must be assembled with utmost precision – both of which are key competencies of ZEISS.

| | |
| --- | --- |
| Focal length | 12 mm |
| Aperture range | f/2.8 – f/22 |
| Camera mount | Sony E-Mount* | Fujifilm X-Mount* |
| Format compatibility | APS-C |
| Focusing range | 0,18 m (7.01") – ∞ |
| Free working distance | 0,10 m (3.94") – ∞ |
| Angular field** (diag. | horiz. | vert.) | 99° | 89° | 66° |
| Diameter of image field | 28 mm (1.11") |
| Coverage at close range (MOD)** | 220 x 144 mm (8.66 x 5.67") |
| Image ratio at minimum object distance | 1 : 9 |
| Lens elements | groups | 11 | 8 |
| Flange focal distance | E: 18 mm (0.71") | X: 18 mm (0.70") |
| Entrance pupil position (front of image plane) | 62 mm (2.42") |
| | |
| --- | --- |
| Autofocus | + |
| Image Stabilization | – |
| | |
| --- | --- |
| Filter thread | M67 x 0.75 |
| Rotation angle of focusing ring | 270° |
| Diameter max. | E: 88 mm (3.46") | X: 88 mm (3.46") |
| Diameter of focusing ring | E: 65 mm (2.56") | X: 65 mm (2.56") |
| Length (with lens caps) | E: 81 mm (3.19") | X: 86 mm (3.39") |
| Length (without lens caps) | E: 68 mm (2.68") | X: 68 mm (2.68") |
| Weight | E: 260 g (0.57 lbs) | X: 270 g (0.60 lbs) |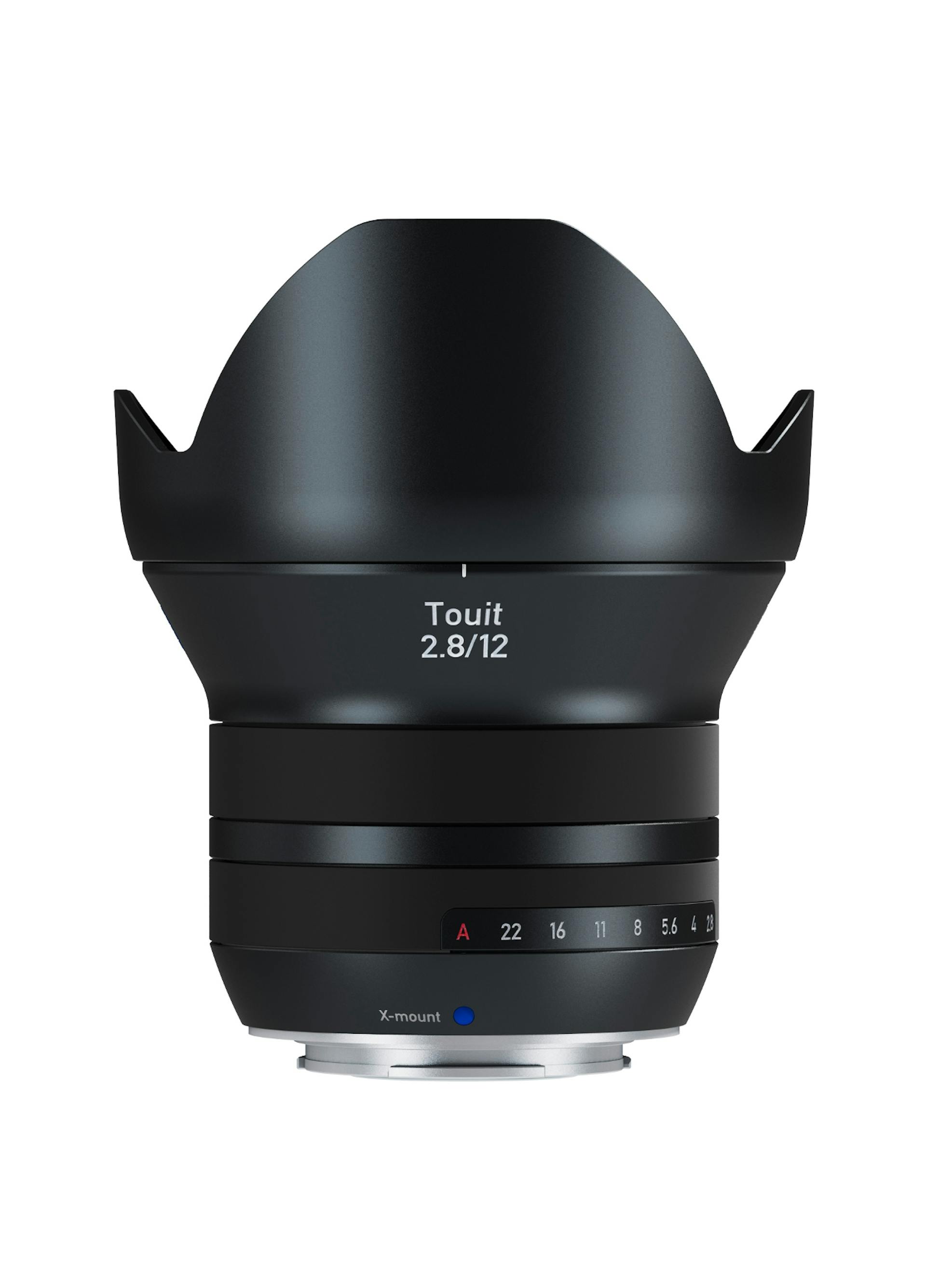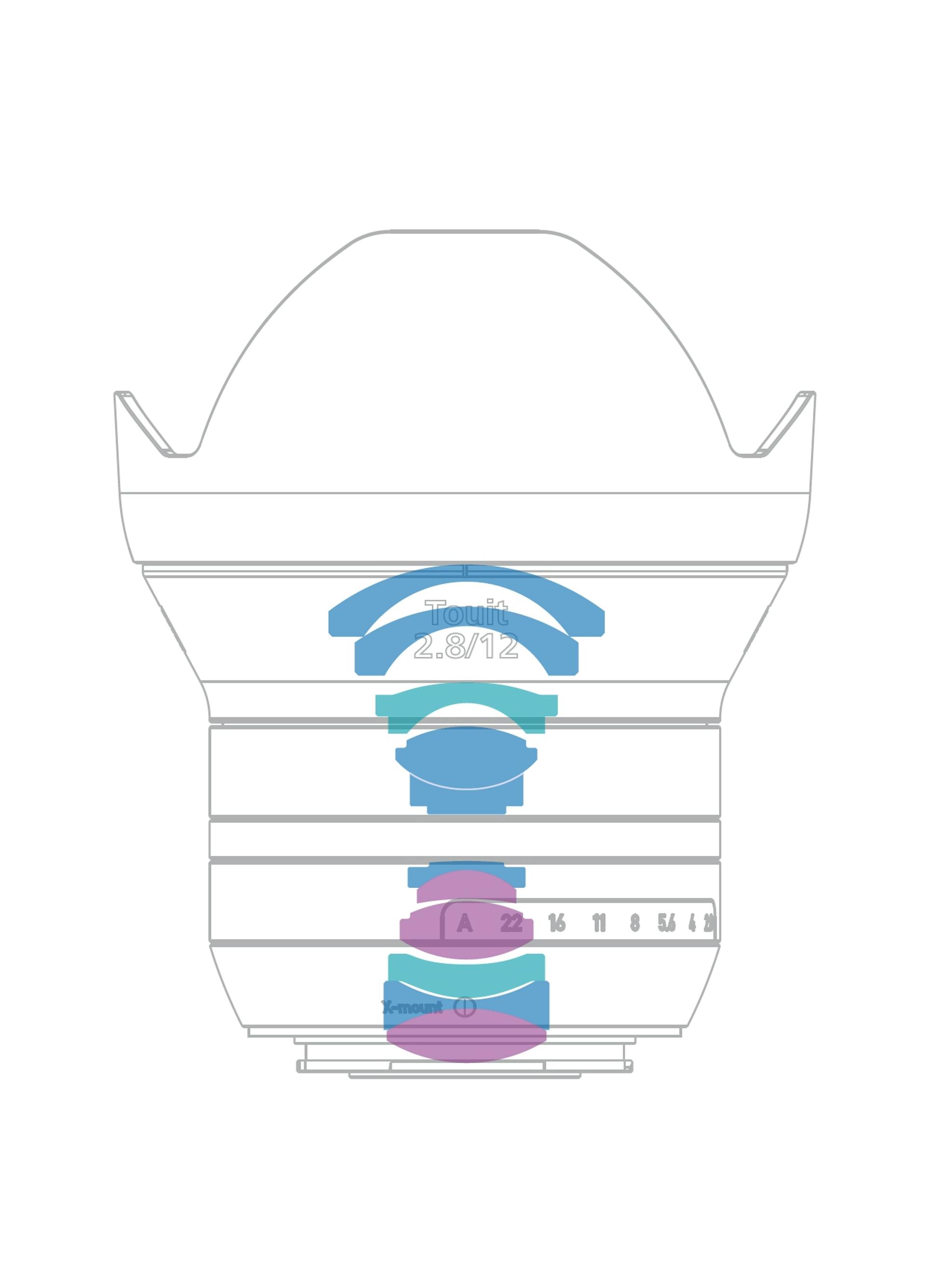 Originally developed for SLR cameras requiring a long back focal distance for short focal lengths because of the mirror box (the distance between the back lens element and the film plane must be considerably longer than the focal length), the Distagon lenses (retrofocus design) are also ideal for mirrorless system cameras thanks to their optimized ray path. Even with longer focal lengths, the high-performance Distagon optical design enables consistently good correction all the way to the corners of the image and very low field curvature.

Distagon Design

Lens with aspheric optical surface

Lens made of special glass with anomalous partial dispersion

"Floating elements" design
fotocarenyc.blogspot.com
"Let me begin by saying I could have written this entire review in this one sentence: "The Zeiss Touit 12mm and 32mm are..."
fotocarenyc.blogspot.com
diglloyd.com
"It appears that one can get very useful ~15.4mm equivalent field of view on the full frame Sony A7R with the Touit 12mm f/2.8 Distagon......"
diglloyd.com
Lens Accessories
Round off the fully unique product experience.
When taking pictures, an optimal image is not the only consideration. Capturing that special experience also plays a key role. With their reliable functions, camera lenses from ZEISS ensure that photographers can fully concentrate on the image and composition, and bring their creativity to life. In order to perfect this experience, ZEISS now offers accessories tailored to the requirements of demanding photographers.
Obtain the extended warranty
Product Registration
ZEISS grants a warranty period of two years from the date of purchase for all its photographic lenses. This may be extended to three years after registering with ZEISS Online Registration. Although the ZEISS extended warranty is already available in numerous countries, claims under warranty may only be made in the country in which the product was purchased. 

Dealer Locator
Please type in your address to find a dealer near to your location: