ZEISS Styli for Coordinate Measuring Machines
The Perfect Match for your Measuring Tasks.
The design and quality of probes and stylus systems have a decisive influence on measurements in tactile metrology. Whether spherical styli from ruby to diamond, disc styli or star styli: with more than 7,000 styli in its range, ZEISS provides entire stylus systems of the highest quality from a single source. You are guaranteed to find the best solution for your measuring processes and workpieces - and our metrology experts will be happy to advise you on choosing the right stylus.

That's why styli from ZEISS are so special:

Precision: Our styli enable precise measurements and deliver reproducible results with the highest accuracy.
Quality: Thanks to the latest production technologies, our styli are particularily precise, stable and durable.
Exceptional: Our ZEISS M3 XXT styli achieve higher overall system stiffness compared to conventional M3 measuring probes.
Fast and Easy: Thanks to our exceptional standard styli portfolio and the ZEISS Metrology Shop you can get the styli you need whenever you need it.

Variety: With our special styli you can measure everything. In addition to spherical styli, you will also find star styli, cylinder styli and T-styli as well as many other styli in our range.
Guaranteed ZEISS Quality with every Stylus Use
Quality makes the difference: Styli may be small, but they are the part of a coordinate measuring machine that touches the workpiece to be measured and performs highly accurate measurements via the respective measuring probe tip.
Lower quality probes can have a significant influence on the accuracy of the measurement. This can result in significant measurement errors and thus an increase in scrap rates.  The service life of the styli is also significantly influenced by the quality. This problem can be effectively avoided with high-quality ZEISS styli.
How can you recognize the highest stylus quality? With the naked eye, it is difficult - but under the microscope, there is often a clear difference. The quality of a measuring probe is particularly evident in the surface finish and the design of the joints. Among other things, this is a decisive factor in determining how long you can measure precise results with the same stylus. Quality also includes the highest possible stylus rigidity, the geometric accuracy of the stylus element and the maximum roundness of the measuring probe sphere. The strict ZEISS process controls in manufacturing guarantee styli quality of the highest order.

Enhanced Production Technologies
The latest technologies such as soldering and laser processing as well as the use of high-end materials increase the service life of the styli quality compared to conventional manufacturing processes enormously. This saves valuable resources and allows you to deliver flawless products to your customers. Reliable measurement results with high repeatability are thus ensured for a long time - and high-precision measuring probes are supplied with a certificate as a guarantee of the promised accuracy.
This is what makes the ZEISS M3 XXT Styli so special
Did you know that with ZEISS M3 XXT styli, a significantly higher overall rigidity of the stylus system is achieved compared to conventional M3 measuring probes? This stiffness is achieved by the 1 mm larger diameter of the XXT adapter base body - i.e. the larger contact surface - and the titanium alloy used. Without a corresponding adapter, the use of M3 styli in M3 XXT systems is not recommended.
ZEISS Special Styli make everything measurable
The Diamond-Coated Monolithic Stylus
The ZEISS Diamond!Scan mono is a monolithic stylus with diamond coating. Since the measuring probe ball and stylus are made from one piece, there is no risk of the ball breaking off. Monolithic styli can be implemented in any diameter and any technically possible length. Due to the long-life diamond coating, there is also virtually no wear and tear and no material build-up during scanning.
Star styli consist of spherical styli combined in a star shape and enable measurements in different coordinate directions. Whereas probing with spherical styli from the side surfaces is only possible to a limited extent, with the star stylus you can select the stylus for probing that is orthogonal to the probed surface.

Swivel measuring probes can be used to measure inclined bores or surfaces. The angle of the stylus can be varied by up to 110°. A special holder is required to hold the stylus.

Disc styli are used, among other things, to measure rotationally symmetrical workpieces with undercuts or recesses and bores. However, a strong filtering of the surface roughness usually occurs. With the design of the spherical disk stylus, a higher accuracy is achieved compared to disk styli.

Cylindrical styli measure two-dimensionally and are particularly suitable for thin sheets. Narrow workpiece edges can also be measured well with cylindrical measuring probes. However, the probe axis must be mechanically aligned very precisely with the feature axis on the workpiece.
As a special form, spherical cylindrical styli are available, which are also mostly used for sheet metal measurement and measurement at sheet metal edges. They have a spherical end and can thus additionally determine the flatness of a surface, for example.

Hemispherical styli are suitable for the measurement of undercuts and for those applications that require a large measuring probe sphere diameter with low weight. To enhance this effect, the stylus is also available with the special form of the hollow hemisphere.

T-styli consist of two opposing measuring probe spheres mounted at 90° to the shaft. These styli are particularly suitable for measuring opposing undercuts, such as grooves. In addition, T-styli can also be used for measuring points that are difficult to access (e. g. on the underside of the workpiece).

With L-styli, the measuring probe sphere is at a 90° angle to the stylus shaft. Due to their L-shape, these styli are particularly suitable for measuring undercuts in bores. In addition, L-styli can also be used for measuring points that are difficult to access (e. g. on the underside of the workpiece).

These innovative styli feature a lightweight and easy-to-grip plastic overmolded adapter with ribbing. This allows easy fixation by hand and effectively reduces damage from tools.
Tip styli, also known as taper styli, are required for two measuring tasks. The stylus is used for self-centering probing of grooves or very small bores. On the other hand, it is used when precisely specified positions on the workpiece must be approached with point probing. Pointed measuring probes are made of solid carbide as standard.

The High-Precision Stylus
For certain applications, styli with maximum accuracy are required. Standard styli in a grade 5 quality as well as grade 3 spheres are not suitable for high-precision measurements due to the Gaussian distribution of the grades. With its high-precision styli (recognizable by the blue adapter), ZEISS offers guaranteed sphere accuracies including a certificate. For example, styli with a certified roundness of < 60 nm and styli with a guaranteed diameter tolerance of ± 0.001 mm are available.
Detect and prevent wear on Styli
Even high-quality styli are consumable items that must be checked regularly. This is the only way to prevent measurement inaccuracies - because the wear of the measuring probe element and material chipping are inevitable in the long run. With the ZEISS Diamond!Scan stylus, however, this process can be significantly extended thanks to its durable material.
If in doubt, styli should be replaced regularly to be able to measure results with highest accuracy. This is particularly true in the event of collisions or if the stylus falls to the floor.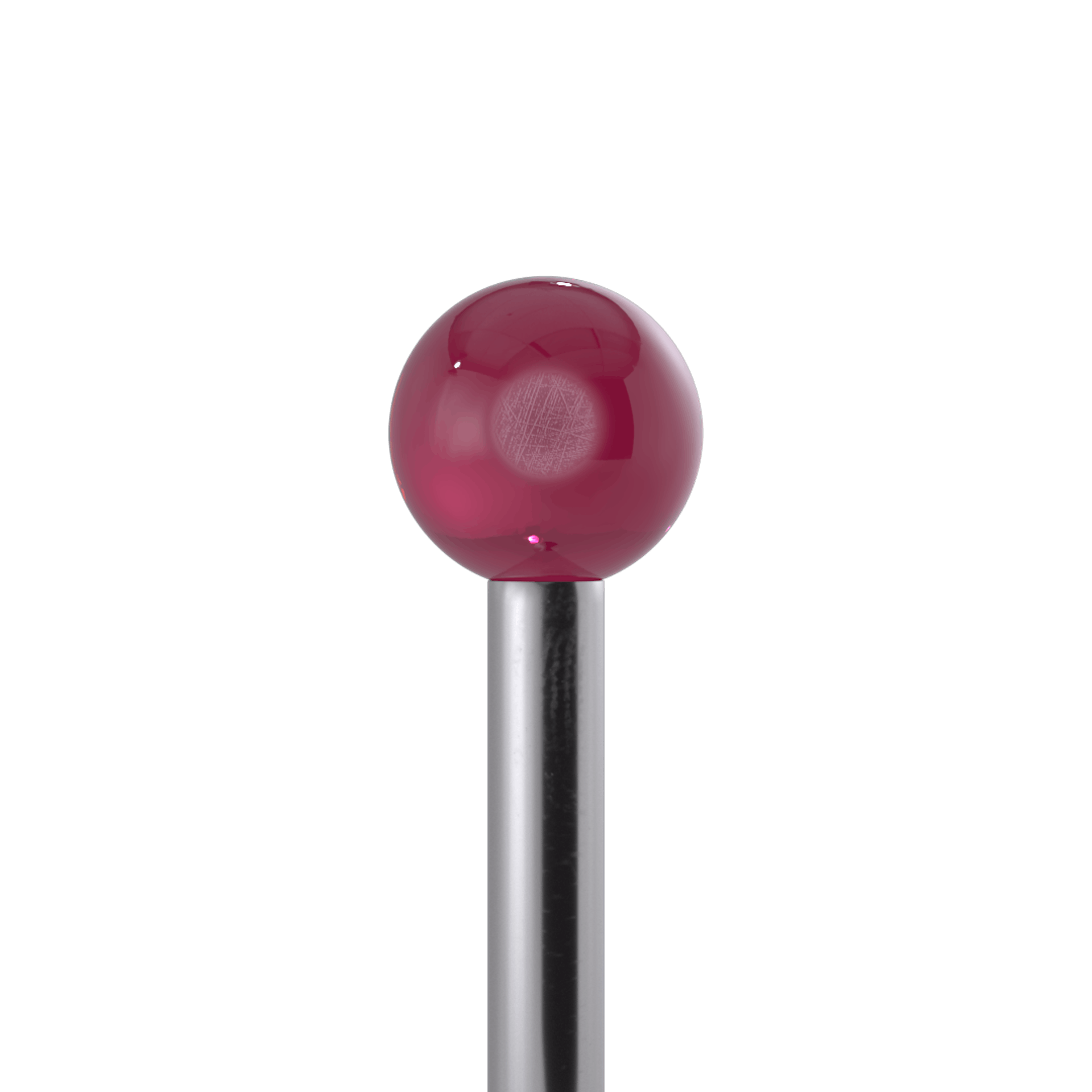 You can easily check your styli yourself by looking through a microscope and a strong light source (>1000 lumens) and replace the styli if necessary. To do this, we recommend checking with 10 to 40x magnification for stylus spheres with 2-8mm diameter. For measuring probe elements smaller than 1mm, a magnification of 40 to 80 times is necessary in order to detect material wear well.
Detect and remove material build-up on the probe tip
Depending on the material of the workpiece and the probe tip, material build-up on the measuring probe tip is unavoidable. Styli must therefore be checked and cleaned regularly to reduce material build-up and prevent measurement inaccuracies. Material build-up becomes more of a problem with soft workpiece surfaces such as aluminum. Here the ZEISS Diamond!Scan stylus is the ideal choice, as material build-up on styli is reduced to a minimum with diamond spheres.
As with stylus wear, we recommend looking through your microscope to quickly detect material build-up.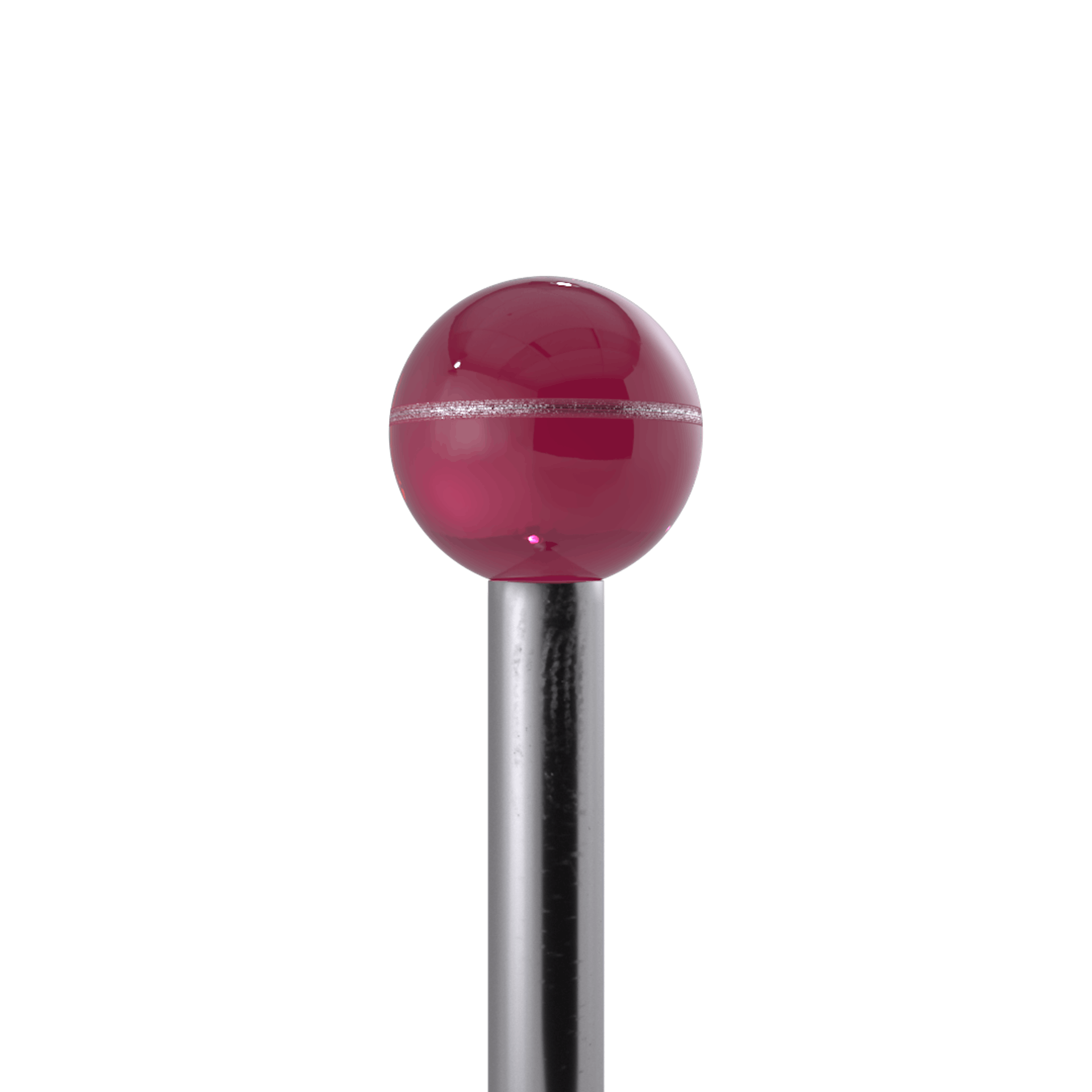 Clean your styli with minimal pressure using the ZEISS cleaning wipes. These are equally well suited for cleaning hemispherical plates and calibration balls. For stubborn contamination, a short soak in a suitable cleaning solution (then dry with ZEISS microfiber cloths) can provide relief. Also practical for styli: our cleaning kit for CMMs.
In addition, to avoid other contamination of the stylus, make sure that the workpiece surface, guideways, and workpiece fixtures are clean before the start of each measuring process.

Learn more about Styli with #measuringhero
Styli are not only composed of several components but are themselves part of an entire stylus system. In combination with CMMs and the connecting elements, extensions, holders or clamping inserts, styli deliver measurement results with highest accuracy and repeatability with reliable ZEISS quality. Learn more about the role of styli and the steps in stylus production from our #measuringhero!
Frequently asked questions about styli
ZEISS styli have already written these success stories
Download more information