© Greg Watermann | ZEISS Batis 2.8/135
© Gurushankar Subramanian | ZEISS Batis 2.8/135
© Christian Dandyk | ZEISS Batis 2.8/135
© Topher Delancy | ZEISS Batis 2.8/135
© Andreas Bogenschütz | ZEISS Batis 2.8/135
ZEISS Batis 2.8/135
The medium telephoto lens for a new era.

center >
Long focal length, fast autofocus, optical image stabilization. Thanks to the outstanding correction of all chromatic aberrations, the ZEISS Batis 2.8/135 is a high-performance telephoto lens with an Apo Sonnar design. The lens is the optimum solution for medium-distance portrait photography.
The advanced correction of the Apo Sonnar lens design ensures extremely realistic portrayal of your subject. To avoid shaking, an optical image stabilizer has also been integrated in the design. The fast and precise autofocus is your guarantee of sharply defined images - even in difficult light. The shallow depth of field at maximum aperture allows the creative combination of focus and blur, allowing you to direct the viewer's attention to the main subject of your photo.
The ZEISS Batis autofocus lenses were specially developed for mirrorless, full-frame sensor cameras from Sony. They have been adapted to work with the camera to form a compact, lightweight system that doesn't compromise on performance. The lenses are fully compatible with all E-mount cameras and offer not only fast, quiet autofocus, but also protection against dust and weather. For creative photography, the innovative OLED display shows the distance and depth of field to ensure the focusing range can always be perfectly set. The high-speed fixed focal lengths of the ZEISS Batis family offer flawless imaging thanks to their completely revamped optical design. The legendary ZEISS T* anti-reflective coating, combined with more than 125 years of experience in lens development and the latest technologies, ensure that every moment captured with a ZEISS Batis lens provides that exceptional ZEISS look.






Smooth and reliable autofocus
The design of the autofocus system requires an extremely accurate shifting of particular lens groups. The focusing system of ZEISS lenses is designed to ensure a robust and smooth-running autofocus mechanism with the best imaging performance.

Versatile full-frame lens
The powerful lens for the mirrorless full-frame system of Sony fulfills the highest requirements. Despite its compact design, the image meets the expectations of professional photographers.

Thanks to features that are designed to keep out dust and spray water, the lens is perfectly suited for critical outdoor conditions. It is also designed for many years of intensive use.

For the first time, you can accurately read the focus distance and depth of field simply and intuitively on the OLED display on the lens. Especially in poor light conditions – excellent readability is always guaranteed.

Excellent resolution and high contrast
Richly saturated and vivid colours are a must in the creation of lasting impressions. However, stray light within an optical system leads to a lightening of the image that is particularly noticeable in the shadows. This reduces image contrast, with the result that exposures lack contrast and appear faded. To avoid this, ZEISS combines various specially developed technologies to reduce the undesirable effects of stray light.

| | |
| --- | --- |
| Focal length | 135 mm |
| Aperture range | f/2.8 – f/22 |
| Camera Mount | Sony E-Mount* |
| Format compatibility | Full Frame |
| Focusing range | 0,87 m (2.9 ft) – ∞ |
| Free working distance | 0,74 m (2.4 ft) – ∞ |
| Angular field** (diag. horiz. vert.) | 18° | 15° | 10° |
| Diameter of image field | 43 mm (1.69") |
| Coverage at close range (MOD)** | 125 x 185 mm (4.9 x 7.3") |
| Image ratio at minimum object distance | 1:5.3 |
| Lens elements | groups | 14 | 11 |
| Flange focal distance | 18 mm (0.71") |
| Entrance pupil position (front of image plane) | 6,9 mm (0.27") |
| | |
| --- | --- |
| Autofocus | + |
| Image Stabilization | + |
| | |
| --- | --- |
| Filter thread | M67 x 0.75 |
| Rotation angle of focusing ring | Focusing not mechanically coupled |
| Diameter max. | 98 mm (3.9") |
| Diameter of focusing ring | 81 mm (3.2") |
| Length (with lens caps) | 133 mm (5.2") |
| Length (without lens caps) | 120 mm (4.7") |
| Weight | 614 g (1.4 lbs) |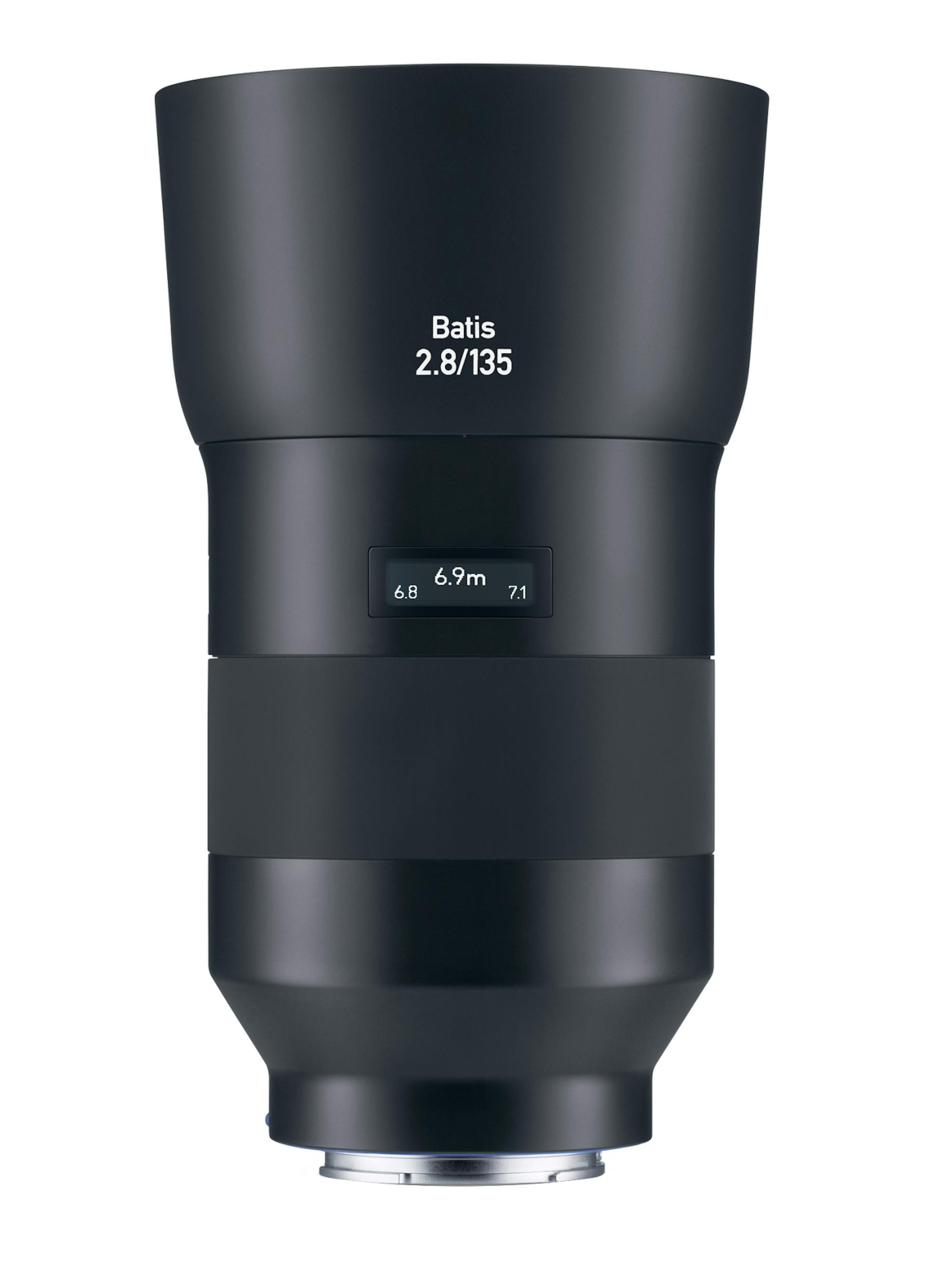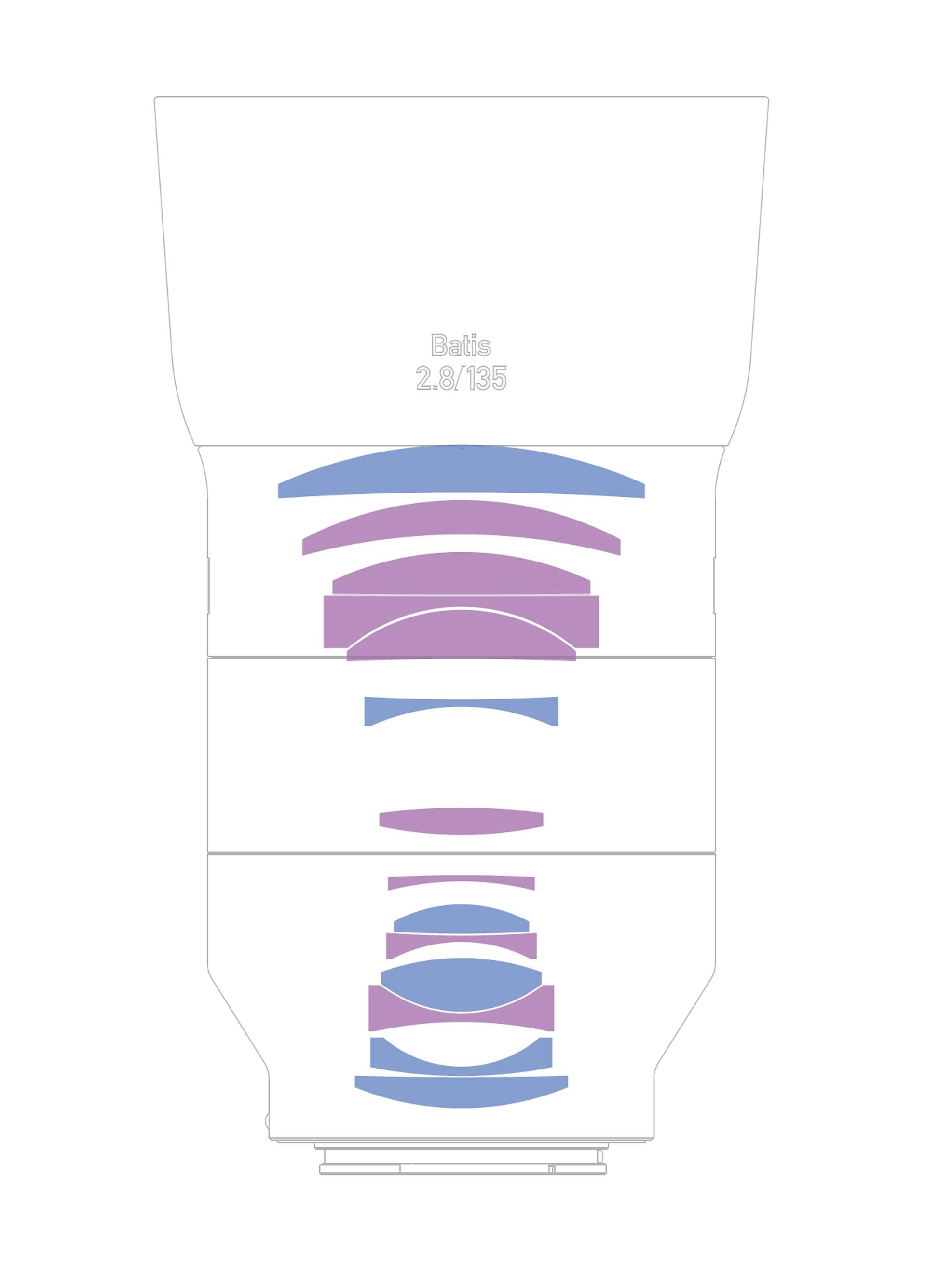 A lens with relatively few glass-air surfaces, it was developed by Dr. Ludwig Bertele at ZEISS in 1930. At the time it was one of the fastest high-speed lenses for 35 mm photography, with apertures as large as 1:1.5 and high contrast thanks to effective stray light reduction. Its high speed and high contrast helped give the lens its name, which is derived from the word "sun," the symbol of maximum brightness. You continue to find the aforementioned benefits with modern lenses in the normal and telephoto ranges whose optical design is based on this basic type.


Sonnar Design

Lens made of special glass with anomalous partial dispersion

"Floating elements" design
pcmag.com
"Zeiss has done a fine job crafting third-party lenses for the Sony mirrorless system..."
pcmag.com
amateurphotographer.co.uk
"The image quality is absolutely sublime – I can't imagine any prospective buyer being disappointed..."
amateurphotographer.co.uk
dustinabbott.net
"So I finally have in my hands an autofocusing Zeiss with image stabilization to boot. Have I died and gone to heaven? Not quite..."
dustinabbott.net
Lens Accessories
Round off the fully unique product experience.
When taking pictures, an optimal image is not the only consideration. Capturing that special experience also plays a key role. With their reliable functions, camera lenses from ZEISS ensure that photographers can fully concentrate on the image and composition, and bring their creativity to life. In order to perfect this experience, ZEISS now offers accessories tailored to the requirements of demanding photographers.
Obtain the extended warranty
Product Registration
ZEISS grants a warranty period of two years from the date of purchase for all its photographic lenses. This may be extended to three years after registering with ZEISS Online Registration. Although the ZEISS extended warranty is already available in numerous countries, claims under warranty may only be made in the country in which the product was purchased. 

Dealer Locator
Please type in your address to find a dealer near to your location: