© Greg Watermen | ZEISS Milvus 2/35
© Dany Eid | ZEISS Milvus 2/35
© Timm Allrich | ZEISS Milvus 2/35
© Greg Watermen | ZEISS Milvus 2/35
© Michael Wartmann | ZEISS Milvus 2/35
ZEISS Milvus 2/35
Versatile reporter.

center >
A split second can often decide whether you take a simple snapshot or create a unique image. The ZEISS Milvus 2/35 allows you to capture every decisive moment.
The ZEISS Milvus 2/35 of the type ZEISS Distagon is a moderate wide-angle lens that is ideal for capturing all scenes in their full natural brilliance – nothing will escape its attention, even in poor light.
Its compact design and fast, precise focusing make the lens particularly suitable for photojournalism. And thanks to its high performance and versatility, it is always ready for those unexpected moments.






Excellent imagery, even in difficult light conditions
Outstanding stray light reduction is achieved by combining a number of optimally matched measures. In addition to the ZEISS T* coating, all lens edges are provided with a special pitch-black lacquer in a complex manual process. Light traps in mechanical components and specially designed surfaces are integrated to prevent the occurrence of reflections.

Future-proof solution for high-resolution camera systems
The excellent image performance of the ZEISS Milvus Lenses is sharply focused on the requirements of current and future high-performance digital cameras. Thanks to the low level of stray light allowed by the lens design, high-contrast images are also possible with increasing high dynamic ranges of the sensors (HDR). The optics are designed to ensure full utilization of the performance provided by high-resolution camera systems.

Creative still and video photography through precise, manual focusing
Manually focusing a lens means controlling and therefore actively composing an image gently and precisely from your fingertips. Here, a good ergonomic design makes all the difference. ZEISS Milvus Lenses feature a large rotation angle which enables pinpoint focusing. The silent, continuous aperture setting (de-click function with ZF.2 mount) and the long focusing range lay also optimal conditions for video photography.

Long-lasting product with protection against environmental influences
ZEISS Milvus Lenses will impress you not only due to their visual and haptic excellence, but also thanks to their inner qualities. Special seals for protection against dust and splashes expand the photographer's creative potential by guaranteeing the system's functional reliability even in environmentally difficult situations.

Stable image performance over the entire focusing range
The Floating Elements Design permits constantly high image performance in the focal plane – from the minimum object distance to infinity. This is accomplished by changing the axial distance between individual lens elements or element groups. The mechanical design of the ZEISS Milvus Lenses is highly complex and the workmanship must be extremely exact – both specialties of ZEISS.

| | |
| --- | --- |
| Focal length | 35 mm |
| Aperture range | f/2.0 – f/22 |
| Camera Mount | Canon EF-Mount* (ZE) | Nikon F-Mount* (ZF.2) |
| Format compatibility | Full Frame |
| Focusing range | 0,30 m (11.8") - ∞ |
| Free working distance | 0,18 m (7.09") - ∞ |
| Angular field** (diag. horiz. vert.) | 62° | 53° | 37° |
| Diameter of image field | 43 mm (1.69") |
| Coverage at close range (MOD)** | 128 x 191 mm (5.04 x 7.52") |
| Image ratio at minimum object distance | 1 : 5.3 |
| Lens elements | groups | 9 | 7 |
| Flange focal distance | ZE: 44 mm (1.73") | ZF.2: 46 mm (1.83") |
| Entrance pupil position (front of image plane) | 86 mm (3.39") |
| | |
| --- | --- |
| Autofocus | – |
| Image Stabilization | – |
| | |
| --- | --- |
| Filter thread | M58 x 0.75 |
| Rotation angle of focusing ring | 113° |
| Diameter max. | ZE: 77 mm (3.03") | ZF.2: 77 mm (3.03") |
| Diameter of focusing ring | ZE: 73 mm (2.90") | ZF.2: 68 mm (2.69") |
| Length (with lens caps) | ZE: 99 mm (3.92") | ZF.2: 97 mm (3.82") |
| Length (without lens caps) | ZE: 83 mm (3.27") | ZF.2: 81 mm (3.20") |
| Weight | ZE: 702 g (24.76 oz) | ZF.2: 649 g (22.89 oz) |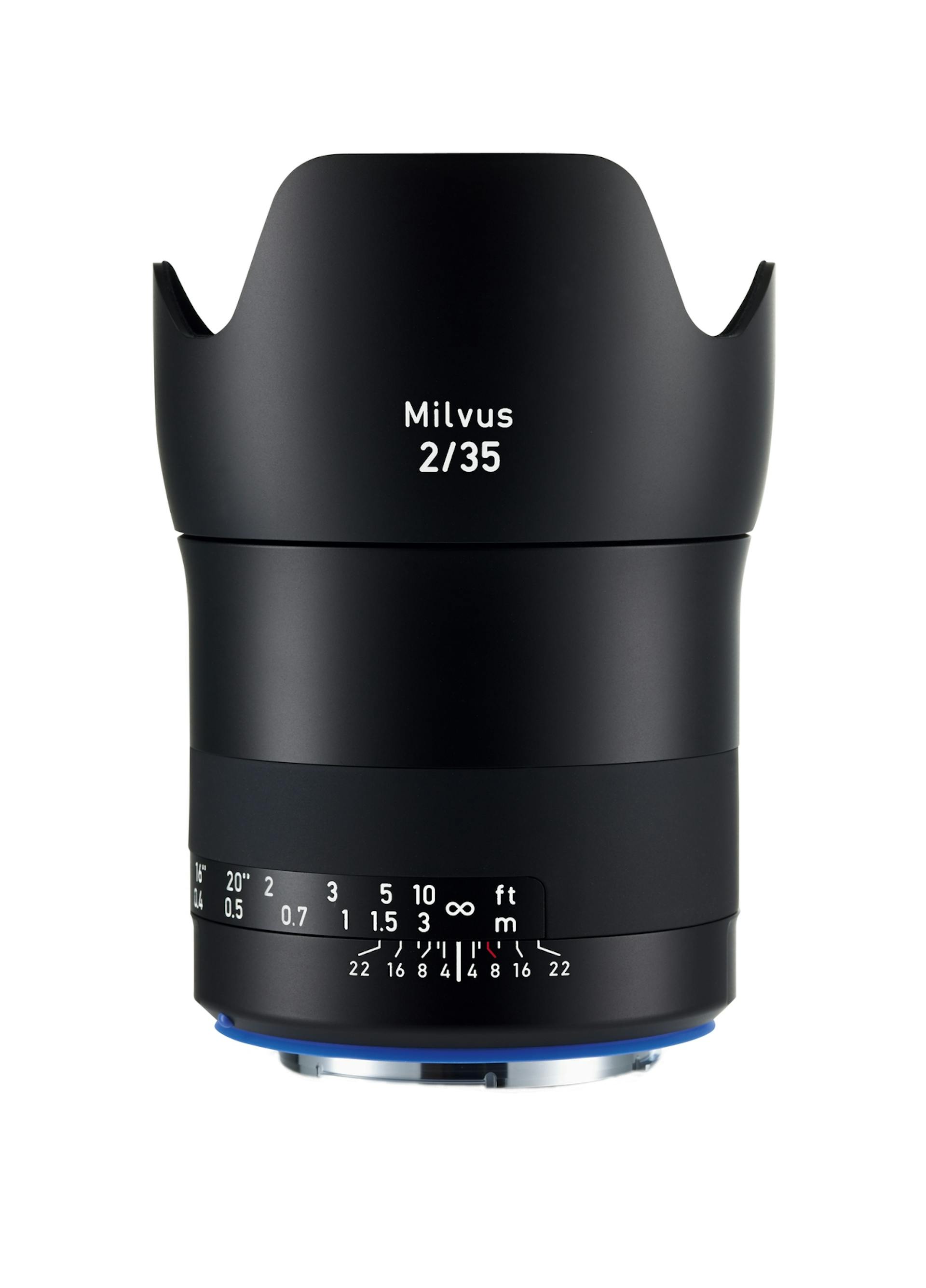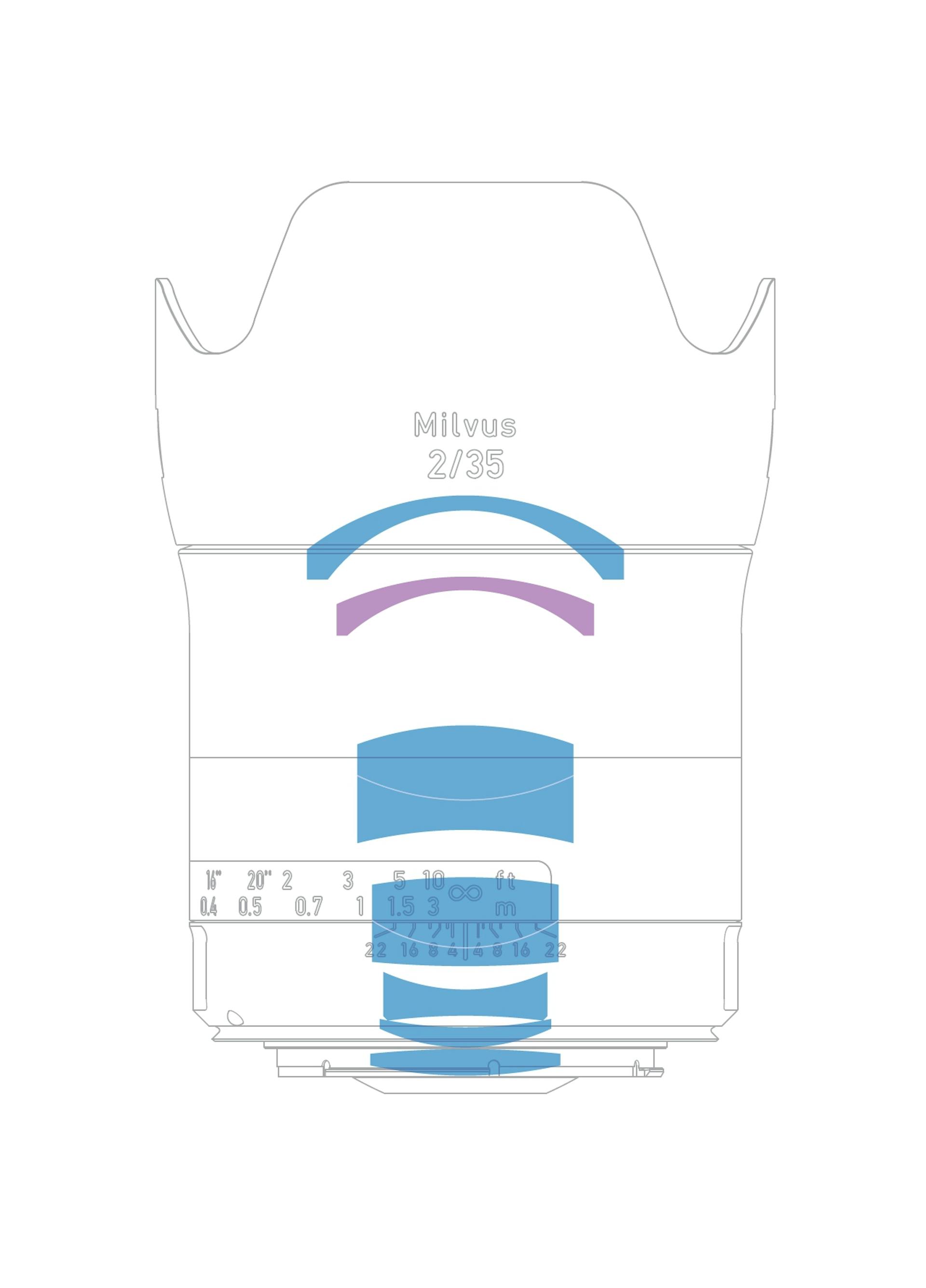 Originally developed for SLR cameras requiring a long back focal distance for short focal lengths because of the mirror box (the distance between the back lens element and the film plane must be considerably longer than the focal length), the Distagon lenses (retrofocus design) are also ideal for mirrorless system cameras thanks to their optimized ray path. Even with longer focal lengths, the high-performance Distagon optical design enables consistently good correction all the way to the corners of the image and very low field curvature.

Distagon Design

Lens made of special glass with anomalous partial dispersion

"Floating elements" design
pcmag.com
"It's sharp from edge to edge at f/2, and takes full advantage of a modern high-resolution camera sensor when stopped down..."
pcmag.com
Lens Accessories
Round off the fully unique product experience.
When taking pictures, an optimal image is not the only consideration. Capturing that special experience also plays a key role. With their reliable functions, camera lenses from ZEISS ensure that photographers can fully concentrate on the image and composition, and bring their creativity to life. In order to perfect this experience, ZEISS now offers accessories tailored to the requirements of demanding photographers.
Obtain the extended warranty
Product Registration
ZEISS grants a warranty period of two years from the date of purchase for all its photographic lenses. This may be extended to three years after registering with ZEISS Online Registration. Although the ZEISS extended warranty is already available in numerous countries, claims under warranty may only be made in the country in which the product was purchased. 

Dealer Locator
Please type in your address to find a dealer near to your location: