© Björn Pados | ZEISS Otus 1.4/100
© Björn Pados | ZEISS Otus 1.4/100
© Peter Coulson | ZEISS Otus 1.4/100
© Dany Eid | ZEISS Otus 1.4/100
© Peter Coulson | ZEISS Otus 1.4/100
ZEISS Otus 1.4/100
The Telephoto Lens.

center >
With its new Otus 1.4/100, ZEISS has expanded the tried and tested Otus family to include a new telephoto focal length. The ZEISS Otus 1.4/100 is one of the best lenses in its class due to its low sample variation, outstanding imaging performance, and superior build quality.
With the same uncompromising performance that makes all Otus lenses stand out, the ZEISS Otus 1.4/100 is a truly exceptional lens. A lens that is a reflection of the comprehensive expertise and extensive experience of ZEISS.
Although developed for 35 mm full-frame cameras, the Otus® 1.4/100 gives you the quality and look of a medium-format system.
Whether in the studio or on location, this lens stands out in every situation thanks to its high resolution and excellent sharpness – even at the maximum aperture of f/1.4.
Whether portrait or product photography, the bokeh will impress you. The apochromatic lens design with aspherical lenses and special glass prevents almost all conceivable aberrations. In addition, the high-quality coating keeps the contrast high, even when shooting against the light, and minimizes lens flare.






Thanks to its exceptional sharpness, the ZEISS Otus exploits the full potentials of contemporary high-resolution sensors and rewards photographers with images characterised by breathtaking rendition of even the finest details.

The ultimate in image contrast
Aberrations caused by extreme differences between shadows and highlights are particularly obvious in images captured at night. Thanks to the outstanding correction of lateral chromatic aberration, the floodlit facade is reproduced with absolute perfection.

Because this lens is an apochromat, chromatic aberrations (axial chromatic aberations) are corrected with elements of special glass with anomalous partial dispersion. The chromatic aberrations are therefore significantly below the defined limits. Bright-dark transitions in the image, and especially highlights, are reproduced almost completely free of color artifacts.

Virtually distortion-free optics
Dramatic perspectives and a view from extraordinary image angles – ZEISS lenses open up new composition possibilities. Distortion would disrupt the composition because straight lines, whose image does not go through the image center, would be reproduced with a curved shape. This annoying effect is accordingly and largely compensated through elaborate optical designs at all focal lengths.

Sources of light located in front of or behind the plane of focus present particular challenges to every lens. In the case of the ZEISS Otus, longitudinal chromatic aberration is so low that practically no colour fringing occurs.

The aspherical lens design ensures consistent imaging performance throughout the entire focusing range as well as sharpness to the periphery of the image. The asphere's more complex surface profile can reduce or eliminate spherical aberration and also reduce other optical aberrations compared to a simple lens.

| | |
| --- | --- |
| Focal length | 100 mm |
| Aperture range | f/1.4 – f/16 |
| Camera Mount | Canon EF-Mount* (ZE) | Nikon F-Mount* (ZF.2) |
| Format compatibility | Full Frame |
| Focusing range | 1,0 m (39.4") – ∞ |
| Free working distance | 0,83 m (32.7") – ∞ |
| Angular field** (diag. horiz. vert.) | 24° | 20° | 14° |
| Diameter of image field | 43 mm (1.69") |
| Coverage at close range (MOD)** | 206 x 309 mm (8.11 x 12.17") |
| Image ratio at minimum object distance | 1 : 8.6 |
| Lens elements | groups | 14 | 11 |
| Flange focal distance | ZE: 44 mm (1.73") | ZF.2: 47 mm (1.83") |
| Entrance pupil position (front of image plane) | 35 mm (1.38") |
| | |
| --- | --- |
| Autofocus | – |
| Image Stabilization | – |
| | |
| --- | --- |
| Filter thread | M86 x 1.00 |
| Rotation angle of focusing ring | 315° |
| Diameter max. | ZE: 101 mm (3.96") | ZF.2: 101 mm (3.96") |
| Diameter of focusing ring | ZE: 90 mm (3.54″) | ZF.2: 90 mm (3.54″) |
| Length (with lens caps) | ZE: 152 mm (6.00") | ZF.2: 150,1 mm (5.91") |
| Length (without lens caps) | ZE: 129 mm (5.07") | ZF.2: 127 mm (4.98") |
| Weight | ZE: 1405 g (3.10 lbs) | ZF.2: 1336 g (2.95 lbs) |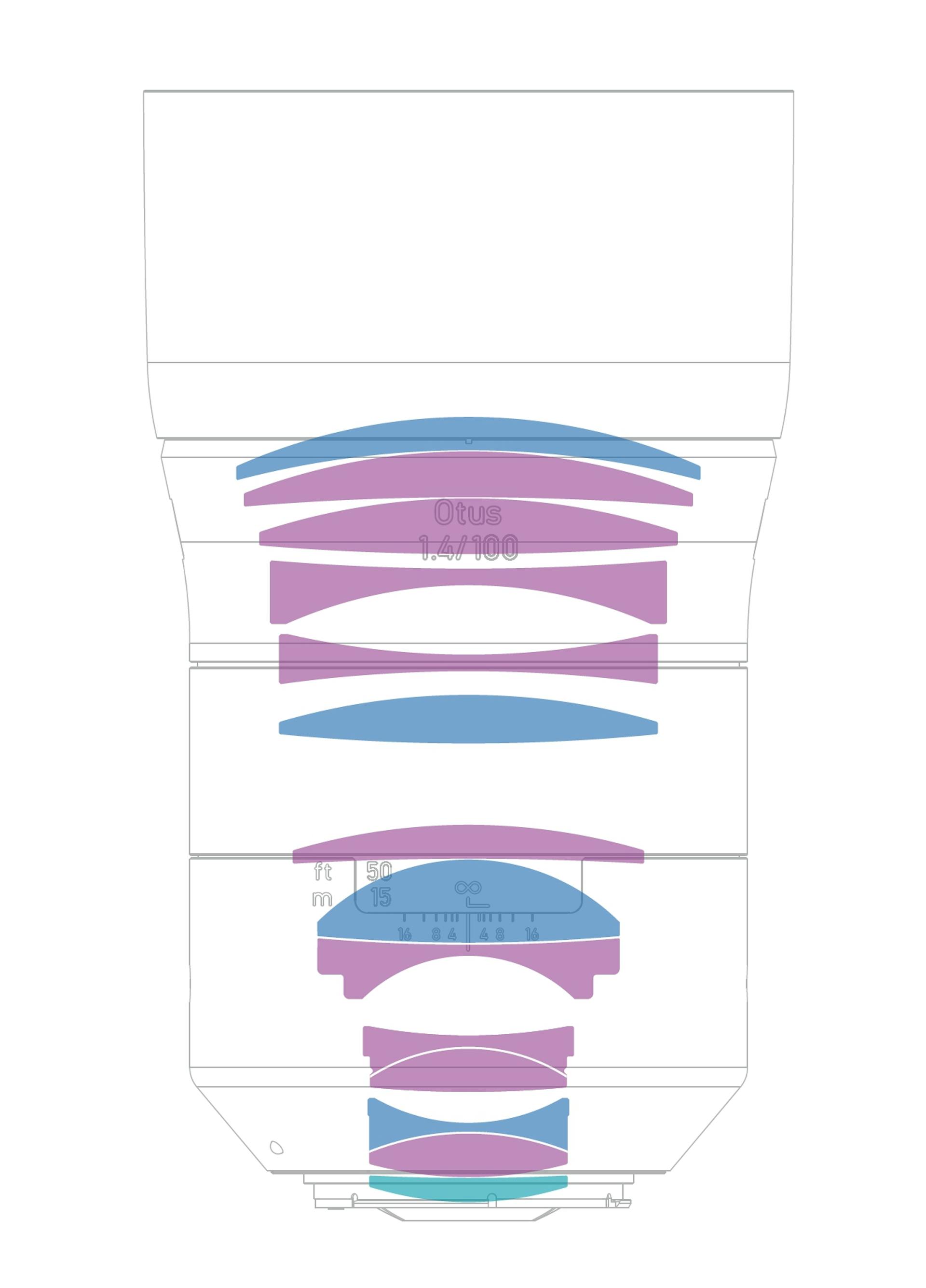 The Planar lens design is the most successful – and most frequently copied – camera lens design of all time. Modifications to the tried-and-tested six-lens basic type ensure that it achieves the high imaging quality required by modern sensors. Lenses with a Planar optical design enable consistent performance across a large range of image scales – the key requirement for universal macro-lenses.


Sonnar Design

Lens with aspheric optical surface

Lens made of special glass with anomalous partial dispersion

"Floating elements" design
Lens Accessories
Round off the fully unique product experience.
When taking pictures, an optimal image is not the only consideration. Capturing that special experience also plays a key role. With their reliable functions, camera lenses from ZEISS ensure that photographers can fully concentrate on the image and composition, and bring their creativity to life. In order to perfect this experience, ZEISS now offers accessories tailored to the requirements of demanding photographers.
Obtain the extended warranty
Product Registration
ZEISS grants a warranty period of two years from the date of purchase for all its photographic lenses. This may be extended to three years after registering with ZEISS Online Registration. Although the ZEISS extended warranty is already available in numerous countries, claims under warranty may only be made in the country in which the product was purchased. 

Dealer Locator
Please type in your address to find a dealer near to your location: