© Toni Ahvenainen | ZEISS Touit 2.8/50M
© Annick Langer | ZEISS Touit 2.8/50M
© Toni Ahvenainen | ZEISS Touit 2.8/50M
© Michael Pollmann | ZEISS Touit 2.8/50M
© Toni Ahvenainen | ZEISS Touit 2.8/50M
ZEISS Touit 2.8/50M
A perfectionist with an eye for the details.

center >
With its exceptional image performance up to a scale of 1:1, this macro lens is the ideal choice for extreme close ups. But it also comes into its own when shooting portraits or panoramas as a light tele-lens.
The delicate structure of a petal, the tiny hairs on a cat's fur or the seductive lines at the corner of the eyes – whenever a shot is all about the minute details, the ZEISS Touit® 2.8/50M will delight and inspire. It not only allows you to portray objects in their original size, but also provides for beautiful contrast between the pin sharp focus of the image and the softly sketched background thanks to its aperture of 2.8.






The ZEISS Touit 2.8/50M lets you capture the smallest things and the tiniest details at their actual size. At its closest focusing distance, subjects sized 15x23 mm fill the frame with an impressive maximum reproduction ratio of 1:1. The imaging performance of the ZEISS Touit 2.8/50M is just as exceptional at such short distances as it is at medium and long distances. Minimum distortion, outstanding correction of chromatic aberrations, minimal image field curvature and excellent correction of coma and astigmatism allow true-to-life reproduction of any subject, particularly in combination with the high resolving power of modern sensors.

Smooth and reliable autofocus
The design of the autofocus system demands an extremely precise movement of certain lens elements. As the mass of the elements or groups to be moved within the optical system differs, various motor types may be installed. The focusing system of the Touit lenses is designed to guarantee robust and smooth autofocusing without any need for compromises or limitations in their optical design.

Information: To achieve maximum compatibility on APS-C cameras of the Sony Alpha series with E-Mount (AF in video mode) we highly recommend using the latest Sony firmware.

The ZEISS Touit lenses are designed and constructed specifically for use on APS-C cameras of the Sony Alpha series with E-Mount and Fujifilm X series. The lenses are therefore fully compatible and support all camera functions, including autofocus.

Virtually distortion-free optics
Dramatic perspectives and a view from extraordinary image angles – ZEISS lenses open up new composition possibilities. Distortion would disrupt the composition because straight lines, whose image does not go through the image center, would be reproduced with a curved shape. This annoying effect is accordingly and largely compensated through elaborate optical designs at all focal lengths.

ZEISS T* anti-reflective coating
The optical elements of ZEISS lenses feature T*® anti-reflective coating on all surfaces and an optical design that guarantees images of superior brilliance at all times, even in unfavourable lighting conditions. We apply the anti-reflective coating to the lens surfaces by the vapour deposition of extremely thin, transparent layers on the glass. In this process, special substances are vaporized with extremely high energy in a high-vacuum environment and are subsequently deposited on the glass surfaces, one after another, as layers with precisely controlled thicknesses to achieve the desired reduction of reflective properties. The first coating techniques were employed by ZEISS as long ago as in the 1930s.

Today's camera technologies and high-resolution sensors demand continuous improvement of lens performance. Thanks to the use of the latest floating element design principles, optical aberration effects in ZEISS lenses are reduced to a minimum throughout their entire focusing range. This is achieved by variation of the axial distance between individual lens elements or groups. This adjustment of the lens-to-lens distance is coupled to the distance setting to ensure correct compensation at all times. The mechanical construction of these lenses is extremely complex and they must be assembled with utmost precision – both of which are key competencies of ZEISS.

| | |
| --- | --- |
| Focal length | 50 mm |
| Aperture range | f/2.8 – f/22 |
| Camera Mount | Sony E-Mount* | Fujifilm X-Mount* |
| Format compatibility | APS-C |
| Focusing range | 0,15 m (6.02") – ∞ |
| Free working distance | 0,05 m (1.97 ″) – ∞ |
| Angular field** (diag. horiz. vert.) | 31° | 26° | 18° |
| Diameter of image field | 28 mm (1.11") |
| Coverage at close range (MOD)** | 24 x 16 mm (0.93 x 0.61") |
| Image ratio at minimum object distance | 1 : 1 |
| Lens elements | groups | 14 | 11 |
| Flange focal distance | E: 18 mm (0.71") | X: 18 mm (0.70") |
| Entrance pupil position (front of image plane) | 67 mm (2.67") |
| | |
| --- | --- |
| Autofocus | + |
| Image Stabilization | – |
| | |
| --- | --- |
| Filter thread | M52 x 0.75 |
| Rotation angle of focusing ring | 720° |
| Diameter max. | E: 75 mm (2.95") | X: 75 mm (2.95") |
| Diameter of focusing ring | E: 65 mm (2.56") | X: 65 mm (2.56") |
| Length (with lens caps) | E: 104 mm (4.09") | X: 108 mm (4.25") |
| Length (without lens caps) | E: 91 mm (3.58") | X: 91 mm (3.58") |
| Weight | E: 290 g (0.64 lbs) | X: 290 g (0.64 lbs) |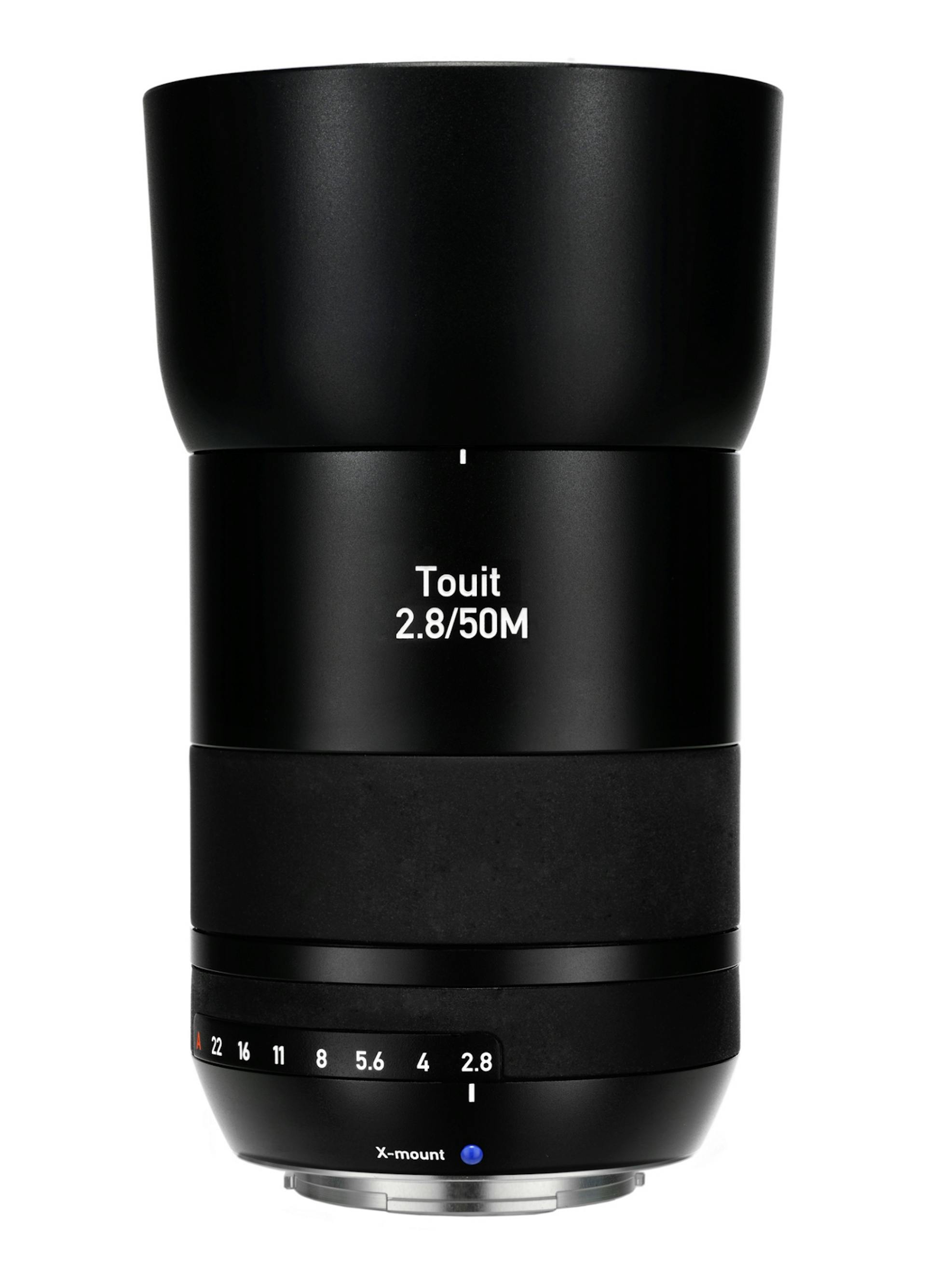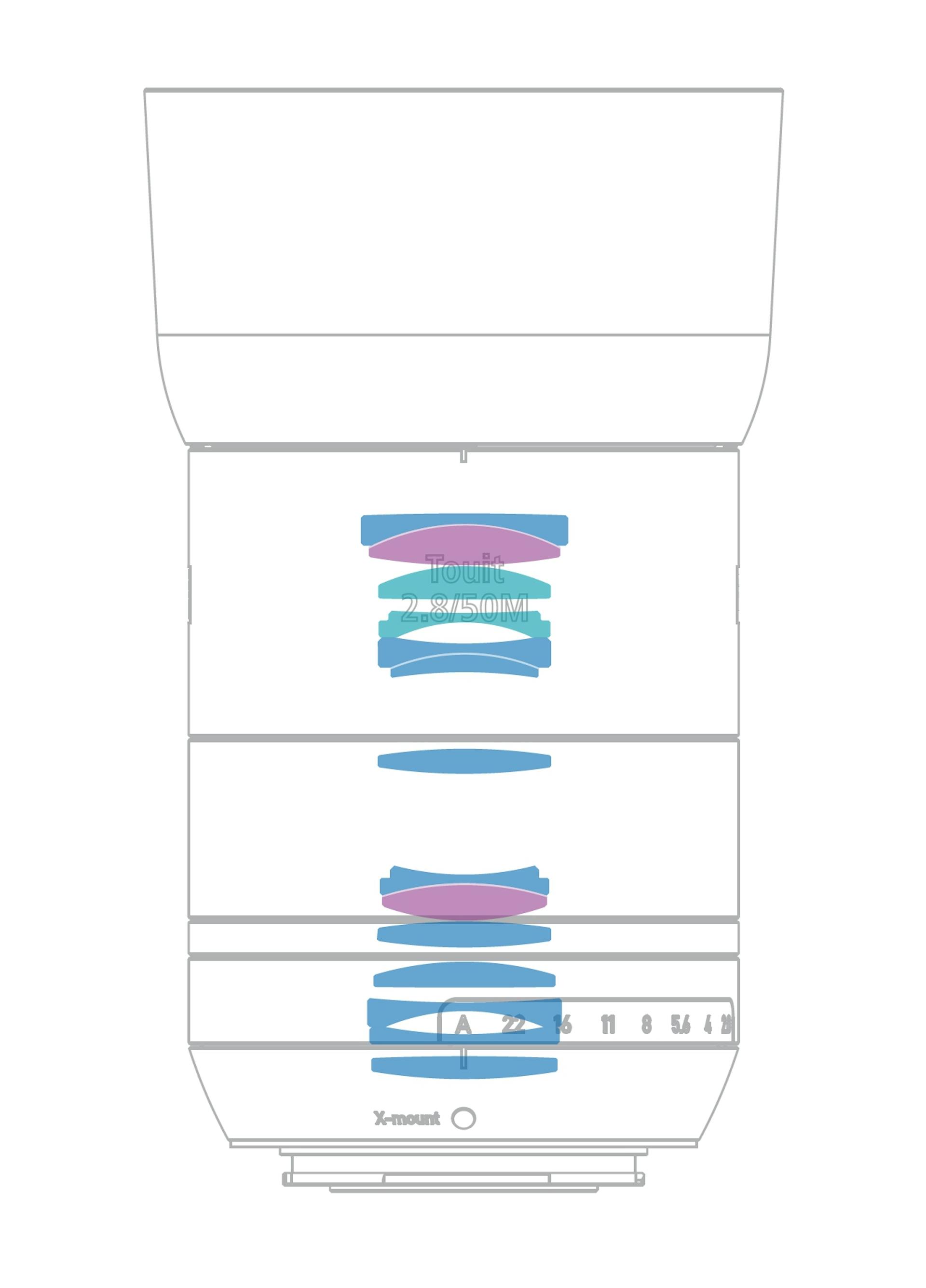 The Planar lens design is the most successful – and most frequently copied – camera lens design of all time. Modifications to the tried-and-tested six-lens basic type ensure that it achieves the high imaging quality required by modern sensors. Lenses with a Planar optical design enable consistent performance across a large range of image scales – the key requirement for universal macro-lenses.


Planar Design

Lens with aspheric optical surface

Lens made of special glass with anomalous partial dispersion

"Floating elements" design
thephoblographer.com
"We're happy to say that the new 50mm f2.8 Touit lens is right now in the house and we're currently underway with testing it..."
thephoblographer.com
photographyblog.com
"The ZEISS Touit Makro Planar 2.8/50mm T* is a new macro autofocus lens for Fujifilm XF and Sony NEX compact system..."
photographyblog.com
varietyoflight.com
"What impressed me almost instantly was the build quality of this lens. It's a very solid and all metal construction and..."
varietyoflight.com
Lens Accessories
Round off the fully unique product experience.
When taking pictures, an optimal image is not the only consideration. Capturing that special experience also plays a key role. With their reliable functions, camera lenses from ZEISS ensure that photographers can fully concentrate on the image and composition, and bring their creativity to life. In order to perfect this experience, ZEISS now offers accessories tailored to the requirements of demanding photographers.
Obtain the extended warranty
Product Registration
ZEISS grants a warranty period of two years from the date of purchase for all its photographic lenses. This may be extended to three years after registering with ZEISS Online Registration. Although the ZEISS extended warranty is already available in numerous countries, claims under warranty may only be made in the country in which the product was purchased. 

Dealer Locator
Please type in your address to find a dealer near to your location: