© Roman Parker | ZEISS Biogon T* 2.8/25 ZM
© ZEISS | ZEISS Biogon T* 2.8/25 ZM
© Mehrdad Samak-Abedi | ZEISS Biogon T* 2.8/25 ZM
© Jens Karlsson | ZEISS Biogon T* 2.8/25 ZM
© Mehrdad Samak-Abedi | ZEISS Biogon T* 2.8/25 ZM
ZEISS Biogon T* 2.8/25 ZM
Create a new way to look at things.

center >
This moderate wide-angle lens offers exciting, creative visual perspectives, but is also one of the easiest to control.
The ZEISS Biogon T* 2,8/25 ZM delivers high contrast across the entire image field and is virtually free of distortion at full apertures. With the aperture stopped down, detail is finely rendered with a pleasing three-dimensional quality. The lens is rangefinder-coupled for easy focusing and the optional 25/28 mm viewfinder is available for accurate image composition. The Biogon T* 2,8/25 ZM is a creative tool for scenic portraits, inspiring landscapes and expansive architectural photography.



The range of ZEISS T*® lenses offers the highest possible standards in terms of performance, reliability and, of course, image quality. Quite simply, they are superior in every way. You can count on highly advanced flare control for crisp and brilliant images, for example. And virtually zero geometric distortion, ensuring precise accuracy when reproducing shapes – especially useful when photographing products and architecture.

Manually focusing a lens means controlling the image result from your fingertips. A good ergonomic design makes all the difference. The user-friendly focusing ring on ZEISS lenses with an ergonomic finger rest is perfect for fast, precise focusing. Changes are immediately visible in the viewfinder. The high-quality focusing mechanism moves smoothly without play, thus also supporting the intuitive interaction with the focal plane.

Ideal aperture properties
Photographers want to guide the observer through the image. Minimal depth of focus is often used as a design element. This keeps the background intentionally blurred to keep the attention of the observer on the main subject. The ZM lenses feature ten aperture blades. The almost circular aperture helps to create a particularly harmonious effect in the out-of-focus areas of the picture (bokeh).

ZEISS T* anti-reflective coating
The optical elements of ZEISS lenses feature T*® anti-reflective coating on all surfaces and an optical design that guarantees images of superior brilliance at all times, even in unfavourable lighting conditions. We apply the anti-reflective coating to the lens surfaces by the vapour deposition of extremely thin, transparent layers on the glass. In this process, special substances are vaporized with extremely high energy in a high-vacuum environment and are subsequently deposited on the glass surfaces, one after another, as layers with precisely controlled thicknesses to achieve the desired reduction of reflective properties. The first coating techniques were employed by ZEISS as long ago as in the 1930s.

The mount and control elements of all ZM lenses are made of metal and are designed for decades of intensive use. The high-quality craftsmanship of the all-metal mounts, the easy-to-grip metal focus and aperture ring and the robust front bayonet and filter threads ensure an amazing photographic experience.

| | |
| --- | --- |
| Focal length | 25 mm |
| Aperture range | f/2.8 – f/22 |
| Camera Mount | Leica M-Mount* (ZM) |
| Format compatibility | Full Frame |
| Focusing range | 0,50 m (19.69") – ∞ |
| Free working distance | |
| Angular field** (diag. horiz. vert.) | 82° | 72° | 52° |
| Diameter of image field | |
| Coverage at close range (MOD)** | 470 x 710 mm (18.50 x 27.56") |
| Image ratio at minimum object distance | 1 : 21 |
| Lens elements | groups | 9 | 7 |
| Flange focal distance | |
| Entrance pupil position (front of image plane) | |
| | |
| --- | --- |
| Autofocus | – |
| Image Stabilization | – |
| | |
| --- | --- |
| Filter thread | M46 x 0.75 |
| Rotation angle of focusing ring | |
| Diameter max. | |
| Diameter of focusing ring | |
| Length (with lens caps) | |
| Length (without lens caps) | 60 mm (2.36") |
| Weight | 260 g (9.17 oz) |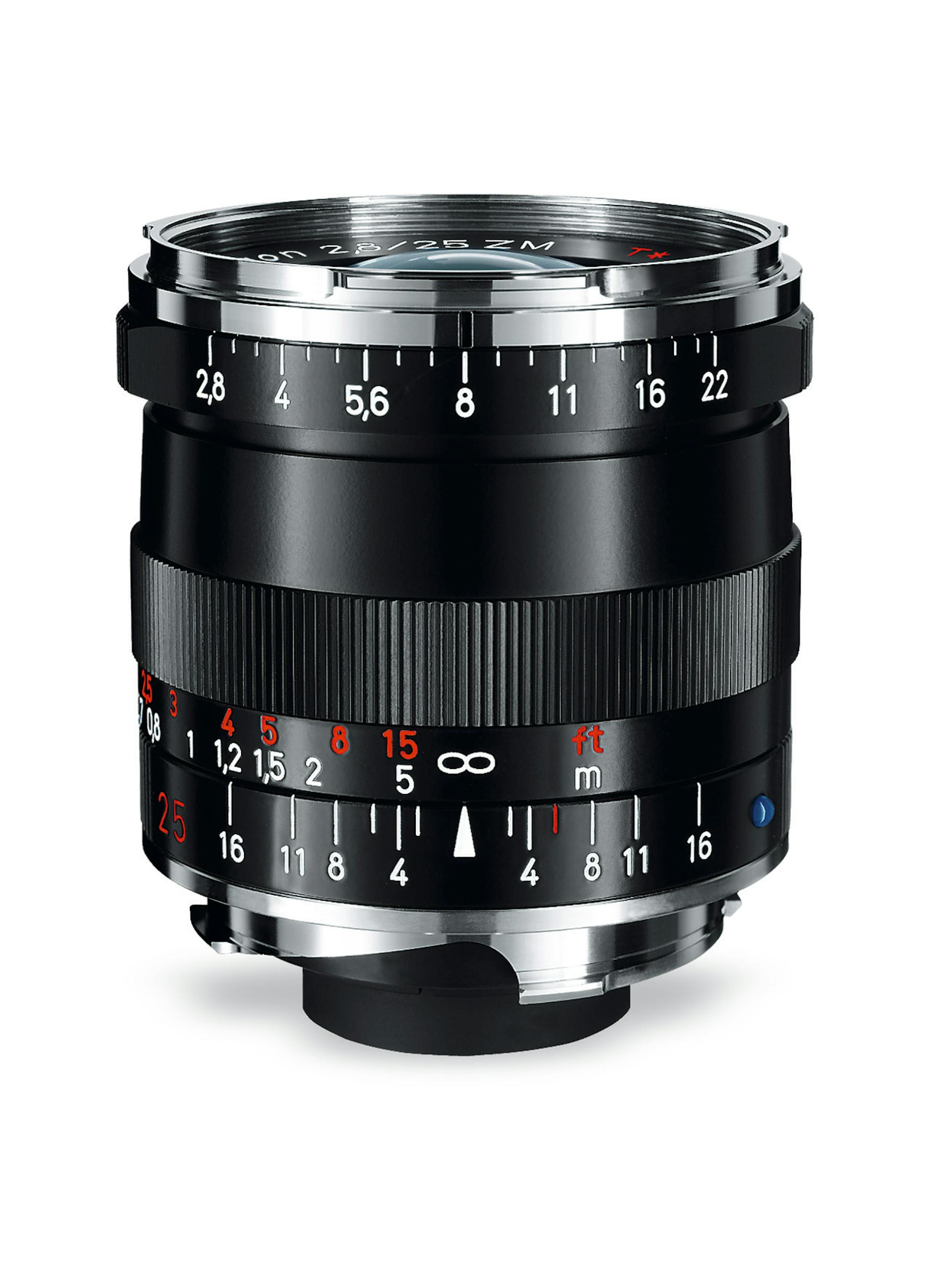 A lens with such a large field angle that it can capture as much of the photographer's surroundings as possible in a single shot – this is the origin of the name Biogon®. The largely symmetrical Biogon optical design enables the use of very compact, moderate to extremely wide-angle lenses, including with rangefinder and mirrorless system cameras. The lenses feature exceptionally good distortion correction, chromatic properties and image field flattening.


Biogon Design
stevehuffphoto.com
"As for the Zeiss 25 Biogon, I have been wanting to try this lens for over a year. I have seen the results from it on the M8 and M8.2 ..."
stevehuffphoto.com
diglloyd.com
"The Zeiss ZM 25mm f/2.8 Biogon is a relatively inexpensive compared to the Leica alternatives, but a very strong performer...."
diglloyd.com
lavidaleica.com
"The Zeiss Biogon T* 2,8/25 ZM lens is sure to dazzle even the most stringent of lens critics and one that even Zeiss is proud of."
lavidaleica.com
Lens Accessories
Round off the fully unique product experience.
When taking pictures, an optimal image is not the only consideration. Capturing that special experience also plays a key role. With their reliable functions, camera lenses from ZEISS ensure that photographers can fully concentrate on the image and composition, and bring their creativity to life. In order to perfect this experience, ZEISS now offers accessories tailored to the requirements of demanding photographers.
Obtain the extended warranty
Product Registration
ZEISS grants a warranty period of two years from the date of purchase for all its photographic lenses. This may be extended to three years after registering with ZEISS Online Registration. Although the ZEISS extended warranty is already available in numerous countries, claims under warranty may only be made in the country in which the product was purchased. 

Dealer Locator
Please type in your address to find a dealer near to your location: