© Christoph Rieß | ZEISS Loxia 2/50
© Christian Dandyk | ZEISS Loxia 2/50
© Arato Ogura | ZEISS Loxia 2/50
© Christian Dandyk | ZEISS Loxia 2/50
© Irwin Wong | ZEISS Loxia 2/50
ZEISS Loxia 2/50
The flexible all-rounder.

center >
Our compact standard lens for full frame Sony α7 cameras. Revel in the exceptional feel of precise manual focus, giving you unparalleled creative freedom at your fingertips.
A 50mm lens was legendary photographer Cartier Bresson's favourite. The reason is simple: this focal length provides the equivalent field of view of the human eye on a 35mm camera, which makes for a very natural perspective. Compact, light and extremely flexible, the ZEISS Loxia® 2/50 shines in the most varied of applications. Regardless of whether it's for street photography, landscapes, portraits or spontaneous discoveries, the ZEISS Loxia 2/50 is the ideal companion for photographic and filmic exploration.
ZEISS Loxia lenses were specifically designed for Sony α7 cameras. This means that they can make the most of the mirrorless, full frame system, while giving you all the creative possibilities of 'classic' photography with manual focus at the same time.
And that's not all: ZEISS Loxia lenses also provide everything you need to shoot high quality video, such as the unique DeClick feature for smooth adjustment of the aperture, for example.






Manually focusing a lens means controlling the image result from your fingertips. A good ergonomic design makes all the difference. ZEISS lenses stand out with their large rotation angle which enables precise focusing. Changes are immediately visible in the viewfinder. The high-quality focusing mechanism moves smoothly without play, thus also supporting the intuitive interaction with the focal plane. The precise engraving in meter and feet, and the depth of focus scale provide additional support for manually focusing.

One completely new feature of the Loxia lens is that you can 'declick' the aperture's locking mechanism using a tool (supplied) and an adjustment screw on the bayonet surface. This means that for video applications, you can smoothly eliminate any unwanted differences in brightness as you pan the camera. This feature can also be used with other video systems whose size makes them suitable for adaption.

Virtually distortion-free optics
Dramatic perspectives and a view from extraordinary image angles – ZEISS lenses open up new composition possibilities. Distortion would disrupt the composition because straight lines, whose image does not go through the image center, would be reproduced with a curved shape. This annoying effect is accordingly and largely compensated through elaborate optical designs at all focal lengths.

High-grade full-metal casing
Tangible quality that holds its value is what qualifies ZEISS lenses for decades of hard use. A precision-engineered full-metal casing, grippy focus and aperture rings made of metal, and a tough front bayonet and filter screw guarantee stunning photographic results. A special sealing ring on the bayonet also protects the interface between the camera and the lens.

The ZEISS Loxia lenses are suitable for use with the mirrorless Sony Alpha cameras with E-mount and were optimized for sensors up to full 35 mm format (24 x 36 mm). With the ZEISS Loxia lenses, the aperture is controlled manually. This allowed the integration of the so-called DeClick feature of the mechanical aperture ring. The cameras feature the corresponding automatic exposure control (A) and manual exposure control (M).

| | |
| --- | --- |
| Focal length | 50 mm |
| Aperture range | f/2.0 – f/22 |
| Camera mount | Sony E-Mount* |
| Format compatibility | Full Frame |
| Focusing range | 0,45 m (17.72") - ∞ |
| Free working distance | 0,37 m (14.57") - ∞ |
| Angular field** (diag. | horiz. | vert.) | 47° | 39° | 27° |
| Diameter of image field | 43 mm (1.69") |
| Coverage at close range (MOD)** | 255 x 168 mm (10.04 x 6.63") |
| Image ratio at minimum object distance | 1 : 6.9 |
| Lens elements | groups | 6 | 4 |
| Flange focal distance | 18 mm (0.71") |
| Entrance pupil position (front of image plane) | 49 mm (1.91") |
| | |
| --- | --- |
| Autofocus | – |
| Image Stabilization | – |
| | |
| --- | --- |
| Filter thread | M52 x 0.75 |
| Rotation angle of focusing ring | 180° |
| Diameter max. | 62 mm (2.44") |
| Diameter of focusing ring | 62 mm (2.44") |
| Length (with lens caps) | 66 mm (2.60") |
| Length (without lens caps) | 59 mm (2.33") |
| Weight | 320 g (0.71lbs) |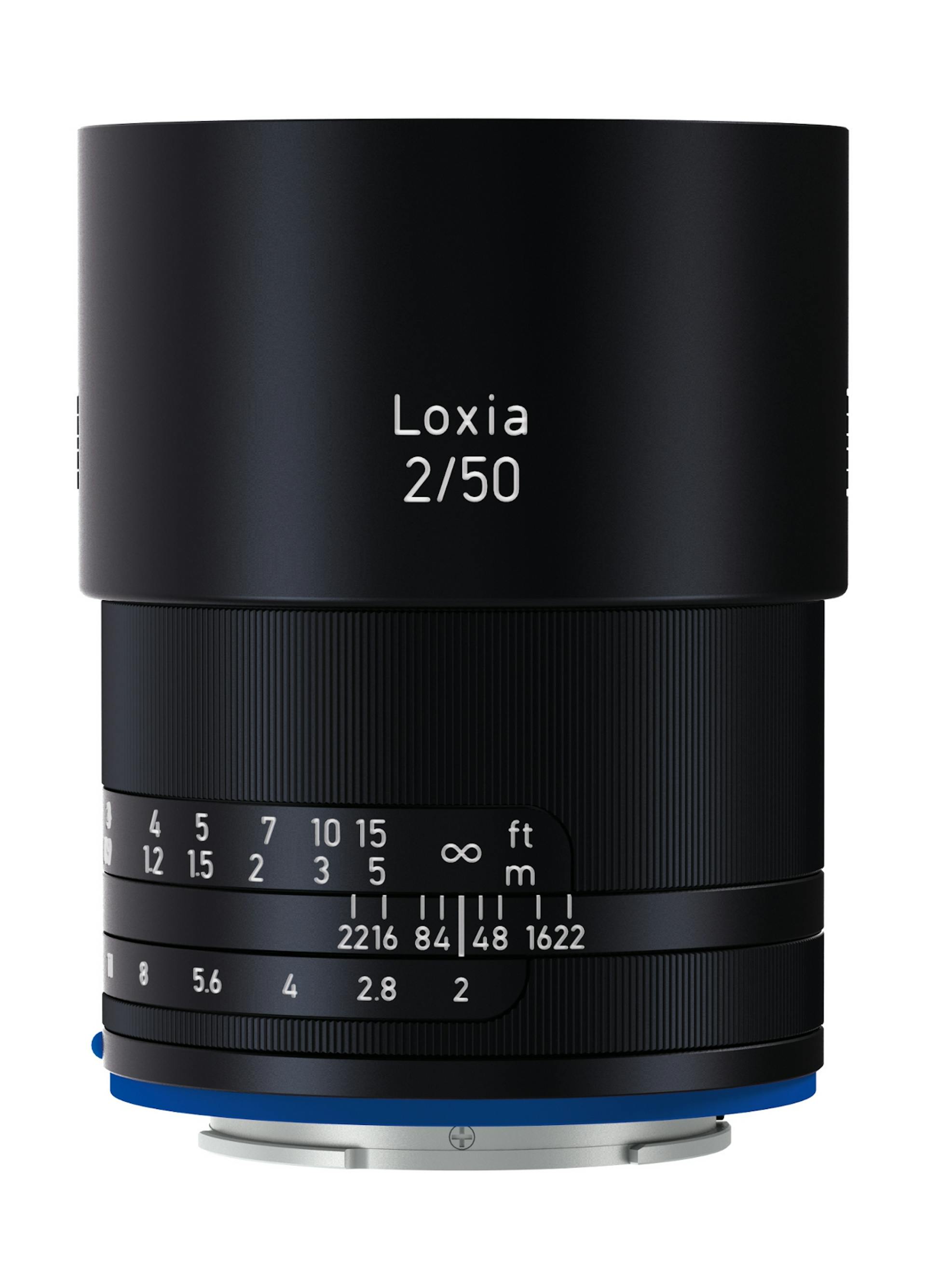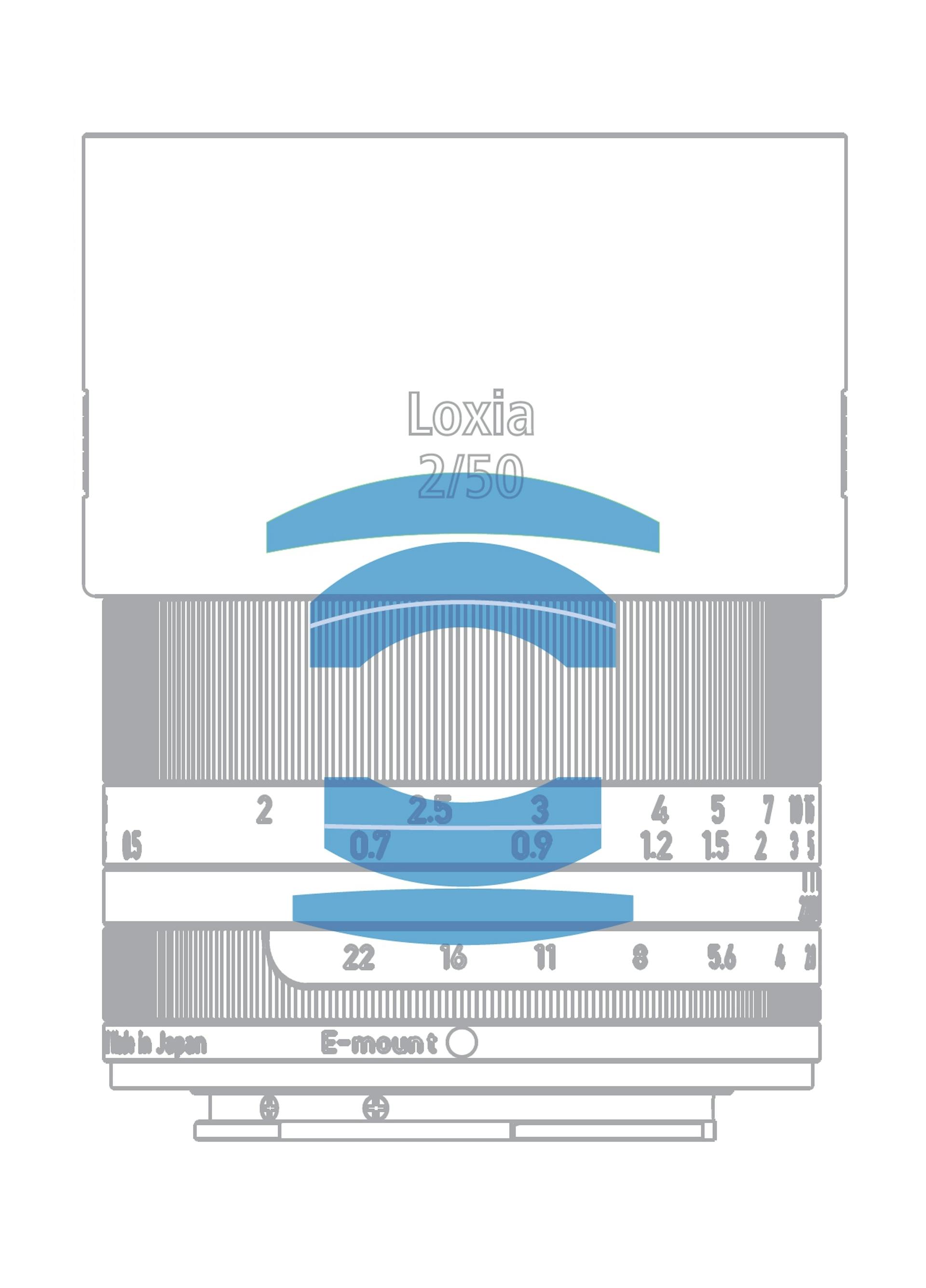 The Planar lens design is the most successful – and most frequently copied – camera lens design of all time. Modifications to the tried-and-tested six-lens basic type ensure that it achieves the high imaging quality required by modern sensors. Lenses with a Planar optical design enable consistent performance across a large range of image scales – the key requirement for universal macro-lenses.


Planar Design
pcmag.com
"The Zeiss Loxia 2/50 is one of the first in a new series of manual focus lenses for Sony full-frame mirrorless cameras..."
pcmag.com
photographylife.com
"I really enjoyed shooting with the Zeiss Loxia 50mm f/2 lens and I would certainly recommend it to anyone..."
photographylife.com
Lens Accessories
Round off the fully unique product experience.
When taking pictures, an optimal image is not the only consideration. Capturing that special experience also plays a key role. With their reliable functions, camera lenses from ZEISS ensure that photographers can fully concentrate on the image and composition, and bring their creativity to life. In order to perfect this experience, ZEISS now offers accessories tailored to the requirements of demanding photographers.
Obtain the extended warranty
Product Registration
ZEISS grants a warranty period of two years from the date of purchase for all its photographic lenses. This may be extended to three years after registering with ZEISS Online Registration. Although the ZEISS extended warranty is already available in numerous countries, claims under warranty may only be made in the country in which the product was purchased. 

Dealer Locator
Please type in your address to find a dealer near to your location: