How to Find the Right Prescription Sports Glasses
A Buyer's Guide
Article first published: April 2023
Last update: August 2023
The right sports glasses are an important element of proper sports equipment. It protects the eyes from external influences and ensures the best possible vision, even in difficult lighting conditions. Different types of frames and lenses are suited to different types of sports. This article gives an overview of factors to consider when buying sports glasses.

Why is it so important to see well when you're doing sports?
No matter what your goal is, good vision is just as important for beginner athletes as it is for professionals. Recognizing obstacles and details, being able to move easily from the shade to the sun, and being able to perceive surroundings with high contrast gives athletes confidence and prevents accidents and injuries. Sports glasses are available for anyone who wears prescription eyeglasses.
What you should look for in prescription sports glasses
Lenses should meet various requirements to ensure good vision during sports. Athletes should ask themselves three basic questions before choosing glasses:
Which visual ranges are particularly important for the sport? 
In which environment is the sport mainly conducted? 
What are the typical lighting conditions?
Sports lenses from ZEISS are available both as single vision and progressive lenses. As with regular glasses, the more often you wear sports lenses, the faster your eyes will get used to them. When changing lens power, all lenses should be changed to the new optimal correction.
Contact lens wearers are also recommended to wear sports glasses without a prescription for many sports. This may help protect the eyes from external influences and improve contrast vision.

Sunglasses for sports and sports glasses with tints
When it comes to sunglass lenses for sports, protection and performance are key. Lenses should protect against sun, wind and water in extreme outdoor light conditions while providing clear, dynamic vision. With the right tint, sunglasses for sports improve color and contrast perception and reduce unpleasant glare from bright sunlight or distracting reflections on surfaces like water or snow.
The tint level of the lenses should be adjusted to the requirements of the particular sport. It's important to note that tint and UV protection are not related. How to protect your eyes from UV radiation. At ZEISS, all lenses – with or without a tint – offer sunglass-level protection from harmful UV radiation up to 400 nm ZEISS UVProtect.
The recommended tint level for sunglasses for outdoor sports is between 50 and 90 percent. In extreme light conditions with strong glare, tints of up to 95 percent are also possible.

Category 0                    

Either bright or very bright

Light absorption:
0 - 20 %

Ideal for protection against insects or the wind

Category 1

Bright to semi-bright

Light absorption:
20 - 57 %

Ideal for cloudy skies and some sunshine; contrast-enhancing

Category 2

Dark

Light absorption:
57 - 82 %

Ideal for normal sunlight, e.g. in summer

Category 3

Very dark

Light absorption:
82 - 92 %

Ideal for winter sports, spending time in the mountains or on the beach

Category 4

Extremely dark and/or with a reflective coating

Light absorption:
92 - 97 %

Ideal for light conditions on a glacier, on the water or in the desert (but not suitable for driving!)
Certain functional tints provide athletes with comfortable and relaxed vision regardless of the environment. And did you know that there are even colors that may positively impact our mood, performance and sense of well-being? ZEISS BioChrome






Polarizing sunglass lenses
Reflected light impairs visual performance. This phenomenon is particularly well known among water sports enthusiasts. Polarizing sunglass lenses can provide a solution here. It minimizes these light reflections, reducing the annoying glare. It makes a significant contribution to relaxed, clear vision even in strenuous light conditions, e.g. when sailing, surfing or skiing.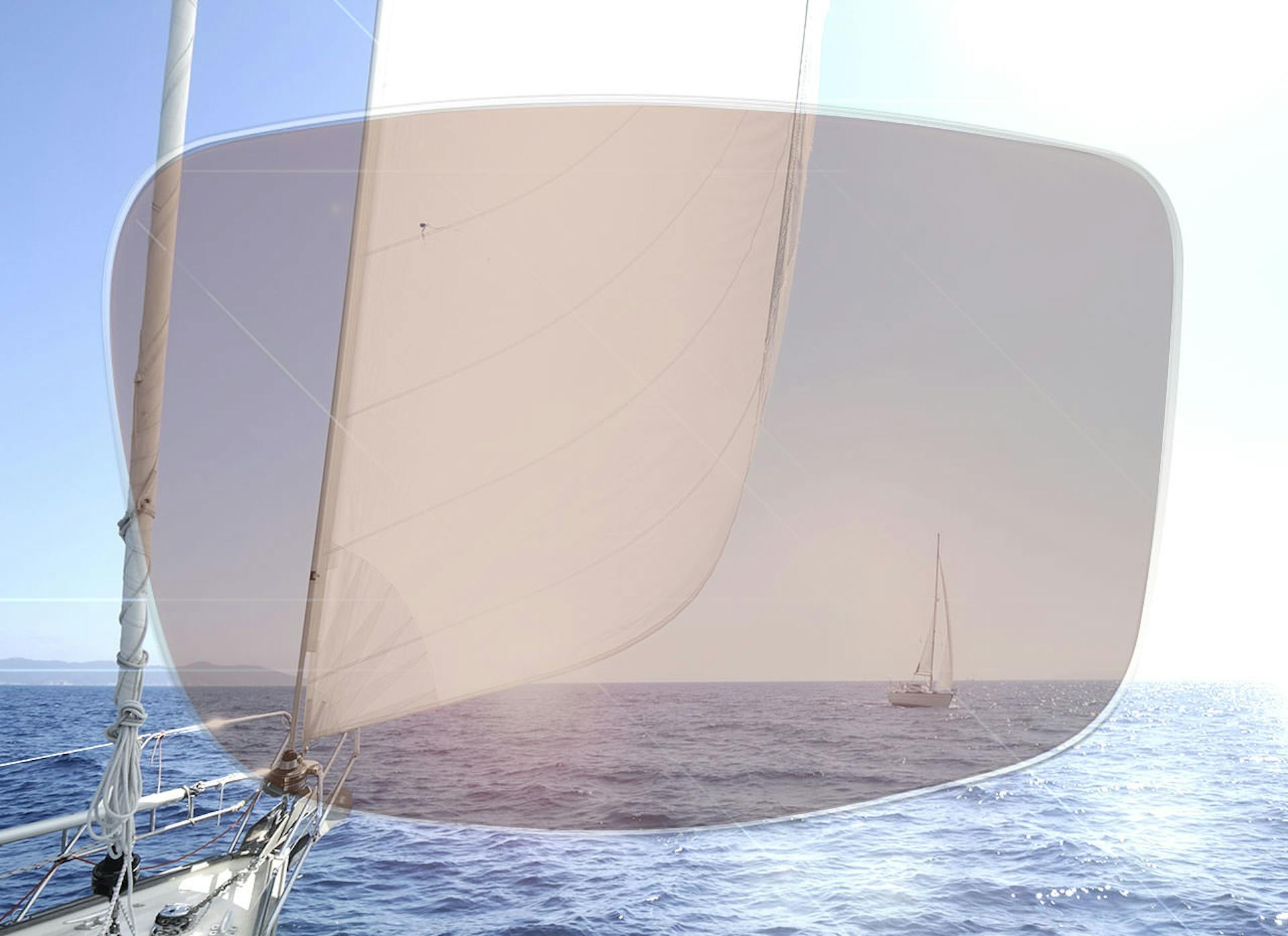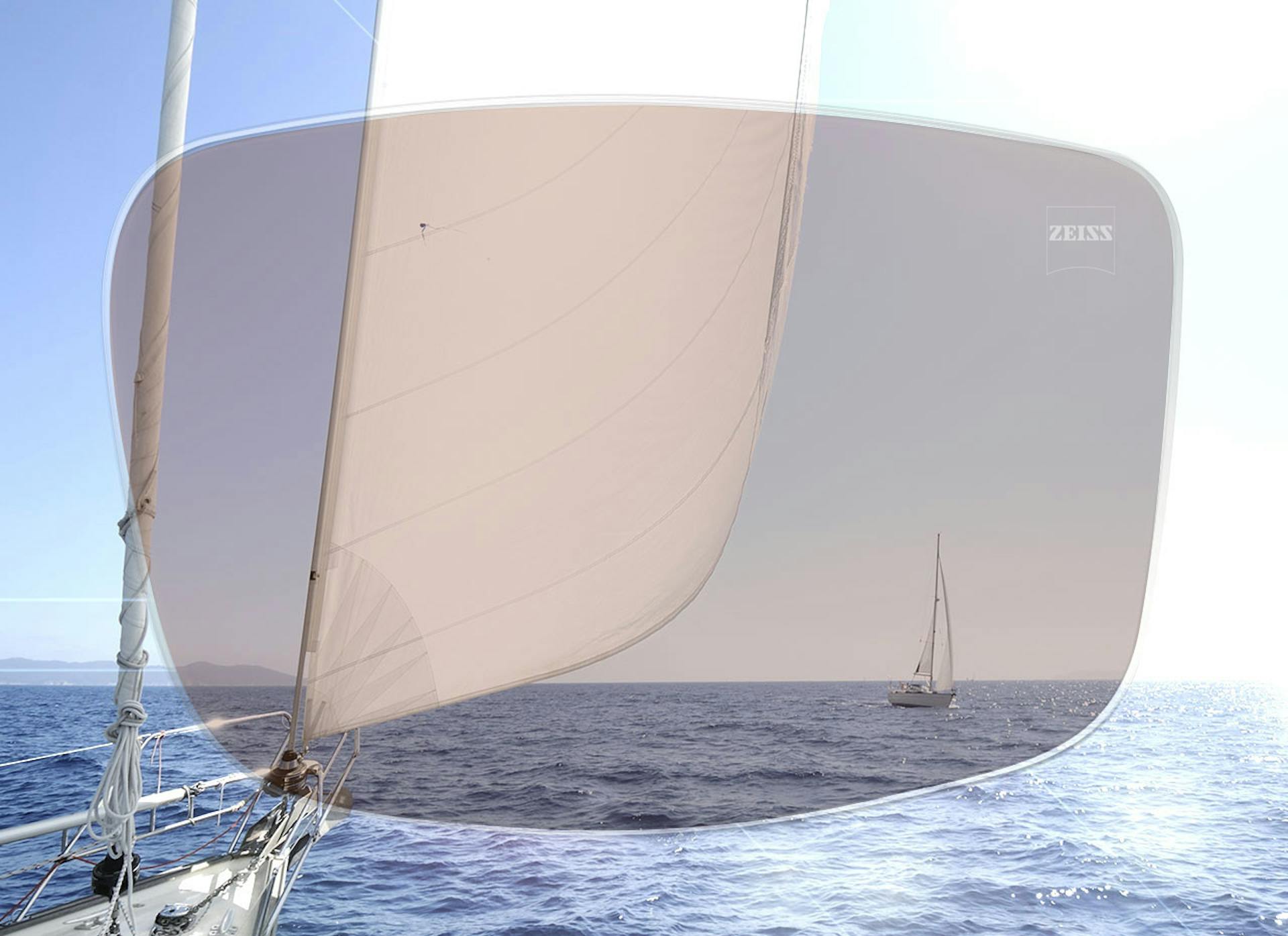 By moving the arrow, the effect of polarized lenses becomes visible.

Photochromic lenses, often referred to as self-tinting lenses, offer a special form of sun protection. They automatically adapt to changing light conditions: When the glasses are not exposed to the sun or UV radiation, the lenses are clear; in sunlight, they darken. Photochromic lenses from ZEISS. Alternatively, the base lens can also be specified with a base tint of medium sunglasses strength that darkens when exposed to sunlight. ZEISS AdaptiveSun. When selecting self-tinting lenses, the speed of darkening and brightening should be considered. Self-tinting lenses are less suited to particularly fast and dynamic sports where the light conditions change quickly between shade and sun.
A specialized optometrist will be able to advise which sports lenses are best suited for a specific sport, or for the athlete's personal needs. Both the visual needs and the requirements of the respective sport will be addressed: Find an eyecare professional near you
Sports glasses: The right frame
When you are in the process of choosing frames, the differences in material, feel and weight are often immediately noticeable. Sports glasses made of lightweight plastic are not only comfortable to wear, but also offer a better grip, as lighter frames slip less from the nose than heavier ones.
The suitability of a sports eyewear frame for a particular sport depends on several factors: How well do the glasses fit? How do the glasses feel when I wear a helmet or other sports gear? And most importantly, how large is my field of vision? Do I opt for a classic pair of sports glasses or goggles with a full visor? A detailed consultation and trying on different models is worthwhile and is possible at specialized eye care professional: Find an eyecare professional near you
Basically, the following points should apply to sports eyewear frames:
Pleasant and safe fit 
Soft, well-fitting nose bridge 
Soft face support and good ventilation system
Which glasses for which sport
The athlete must feel comfortable with the chosen glasses. Fit and geometry must correspond to the wearer's anatomy, eye distance and nose size. Frames with large lenses often work well because they maximize the field of vision. Small lenses are less suitable because the rim of the glasses quickly restricts the field of vision when looking down or to the side.

For cycling or inline skating, sports glasses with straight temples are suitable because it fits better under helmets. In addition, larger lenses that fit closely to the face protect the eyes from wind, insects or dust. Lenses in the colors Skylet or Sweet Violet allow for higher-contrast vision, making it easier to see bumps. Gray lenses reduce glare and reproduce colors faithfully.
When jogging or walking, frames made of lightweight material work best. Temples that go around the ear give additional support. Lenses in shades of purple, red or pink are also suitable here to improve contrast vision.

For water sports enthusiasts, polarizing lenses make it easier to see on reflective surfaces. Wrap-around goggles are also good because it keeps out splashing water, glare and reflections that might otherwise enter the eyes from the sides or below.
Snowboarders and skiers opt for sports goggles with a wide field of vision or full-face goggles. The goggles should fit snugly, yet be breathable. Certain filters increase contrast vision in the snow and make it easier to see irregularities such as bumps and hollows.

Golfers need to move their eyes constantly and quickly between the sky and the green. Tints like the Sweet Violet or Spicy Red color improve contrast on the green.
The right lenses and the right cut for sports glasses
Many requirements arise when it comes to producing lenses for sports glasses. For a wide field of vision, large lenses with stronger deflections are often required. These should be placed obliquely in front of the eye. This can lead to aberrations and blurring in the periphery, which must be compensated. ZEISS has developed a special optical design for this called ZEISS Cosmetic Edge Technology, so that clear vision in all directions is possible with these frames. Since large lens diameters often lead to externally thick prescription lenses in cases of severe myopia, ZEISS offers technology that enables an aesthetically appealing edge design even with very large frame shapes. The design can be used for all sports eyewear with a prescription - including single vision or progressive lenses.
Sports glasses for women, men and children
Sports glasses for women and men do not differ in function. Trying on different frames is the easiest way to find the right sports glasses for your individual face and head shape.

Why sports glasses make sense
The eyes are by far our most powerful sensory organs. We can absorb much more information in a very short time with our eyes than with any of the other senses. The sense of sight provides us with about 80 percent of all information from the environment which we process in the brain.
During sports, our body is exposed to the challenges of coordination, balance, concentration and reaction. Our eyes play a central role in this. Blurred vision and glare from the sun distract us from the actual goal and pose a risk of accidents that can lead to injuries. The right sports glasses create the right conditions for an unrestricted sports experience while protecting the eyes. 
If you would like to check your eyesight before you visit an eye care provider, you can use the ZEISS online eye test: ZEISS Online Vision Screening. Please note: All checks are classed as initial screenings and a follow-up visit with your optometrist is recommended. A thorough eye test can only be performed by an eye care professional, and this is an essential part of buying the best sports glasses for your needs.
Find a lot of interesting content about sunglasses and self-tinting lenses.
ZEISS Vision Care
Sarah Kopp
International PR: Eyeglass Lenses, Coatings and Materials
Mail: sarah .kopp @zeiss .com

Phone: +49 (0) 7361 591-1248